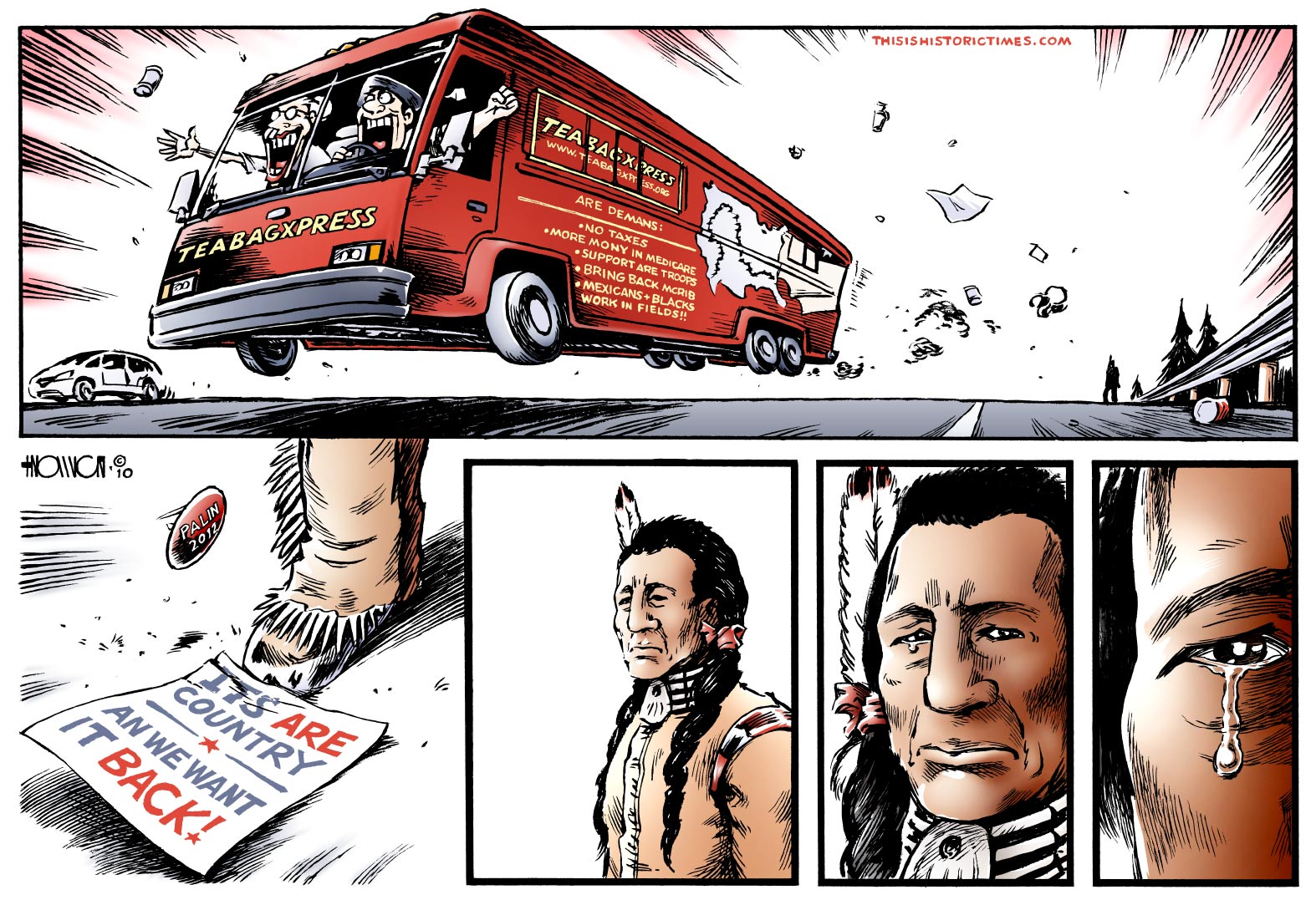 The gag in this cartoon references the famous Keep America Beautiful "Crying Indian" anti-litter PSA from the '70s. This commercial has of course been referenced countless times on countless television shows over the last few decades, so I wouldn't be surprised if a lot of people are familiar with it despite having never seen the original ad before. It's like a Web meme 30 years before the Web and 5 years before the word "meme" even existed!

The bus in the first panel is based on this vehicle. In addition to making the name a little funnier, I've also changed the words written on the side of it, though they may not be fully legible online. I have them saying the following:

ARE DEMANS:

• NO TAXES
• MORE MONY IN MEDICARE
• SUPPORT ARE TROOPS
• BRING BACK McRIB
• MEXICANS + BLACKS WORK IN FIELDS!!

I wanted to also include "DRILL, BABY, DRILL" and have the final line conclude "…NOT IN WHITE HOUSE," but there wasn't room.

Oh, and before anybody points it out: I do realize Iron Eyes Cody, the "Indian" from the ad, wasn't actually a Native American. I'm not sure if this fact enhances or detracts from my cartoon, but either way, I didn't think it made enough of a difference to merit throwing the joke out.
Tags:
anti-immigration
,
bus
,
crying indian
,
garbage
,
Iron Eyes Cody
,
litter
,
littering
,
McRib
,
Native Americans
,
Racism
,
tea baggers
,
tea party
,
Tea Party Express
,
this is are country
,
trash