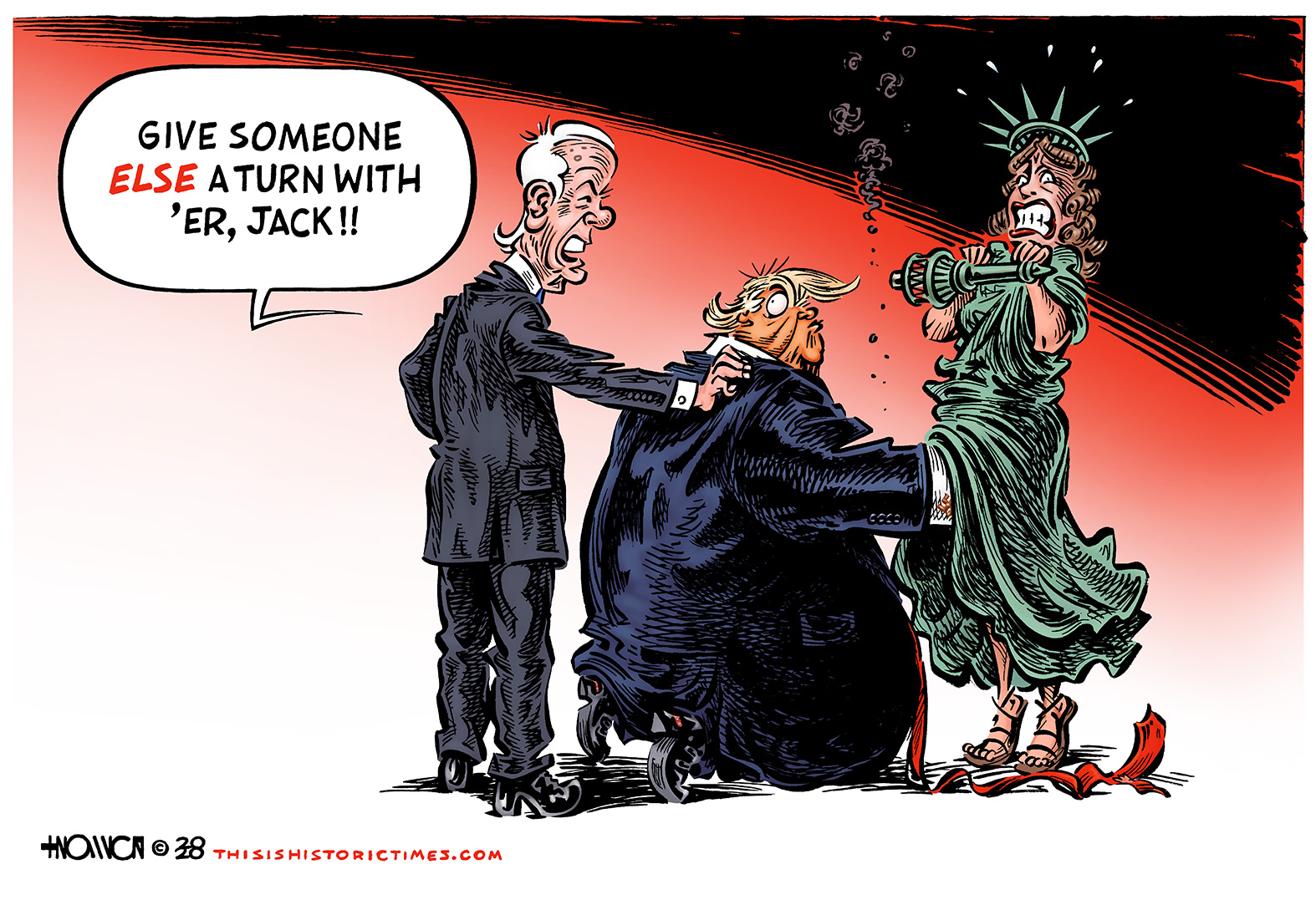 It's been about two weeks since one demented, racist, serially–dishonest sexual predator defeated the other demented, racist, serially–dishonest sexual predator in the 2020 American Presidential election.

Do we know which one? Probably. Does it really matter? Depends on how you look at it.

If replacing a straight-up fascist with a mere willing ally of fascists constitutes a major improvement, then that at the very least can be counted as a win for the good guys. Furthermore, said fascist's refusal to accept the election results certainly highlights what a danger he is and always has been to democracy (or the flimsy illusion of it, anyway), not to mention the urgency of ousting him, in the short term.

Long-term, however, the obvious (and sometimes literal) crappiness of his replacement all but assures the rise and election of a more effective and malignant fascist in the near future, possibly as soon as four years from now.

In the meantime, Biden has already signaled that his Administration will do little or nothing to advance positive, meaningful or necessary action on any one of the serious issues currently facing the United States, to say nothing of the entire world, and will instead seek cooperation with the very gremlins who are determined to make things worse, while continuing to publicly snub everyone who knows better.

His statements about policy goals and plans for the future are often so meaningless, vague or contradictory as to be irrelevant; the only times they seem to show any consistency at all is when they're actively terrible. The roadmap for his likely agenda has already been drawn up and certified by his long history of friendship with segregationists and support for their Cause; his deliberate efforts to essentially criminalize being black or poor; his slavish devotion to corporate pharmaceutical, insurance, and fossil fuel giants; and finally his wheezing, elderly hard-on for wars of imperialism.

On most of these issues, Biden is a lateral move from Trump in terms of awfulness—the latter is the only area where he's significantly, unquestionably worse. Trump has been so busy waging war on his own constituents that he hasn't had much time or the attention span for America's many wars against foreigners, especially compared to his immediate predecessors.

Unsurprisingly, he seems to have been more concerned with vapid, macho displays of military power than he has with actually doing anything of consequence with it. He's a racist dog with mushy dentures, mindlessly barking into a series of interconnected megaphones.

Biden, on the other hand, was one of the most aggressive Democratic cheerleaders for the 2003 Invasion of Iraq (exactly like his party's previous nominee for President—are you sensing a pattern?); agreed with Barack Obama's use of drones to commit mobster-like crimes against humanity; and just recently foreshadowed a desire to establish new battlefronts in America's War On Anyone Who Won't Hand Over Their Oil (Except For Saudi Arabia).

Yeah, Trump's said the same kinda stuff many times while manically tweeting through his latest methamphetamine-fried chicken binge, but as stated above, while he's had ample opportunity to act on those threats, they've generally proven to be little more than the hot-air ramblings of a loudmouthed but impotent thug, like when the dictator of North Korea waves nuclear missiles around as surrogates for his ding-dong. No wonder the two of them are such good pals!

Biden has already shown he usually will not hesitate to authorize and enable acts of excessive force against large masses of mostly-harmless, dark-skinned civilians, both domestically and abroad, and despite his creeping senility, he's remained as steadfast and erect in those commitments to state-sponsored violence and oppression as he has to invading the personal spaces of visibly-uncomfortable women and little girls.

Of course, that final detail there represents the most ridiculous manner in which Trump and Biden are indistinguishable from one another—hence the imagery in my cartoon above, which acts as both a metaphor for their similarities, and a literal depiction of that one in particular.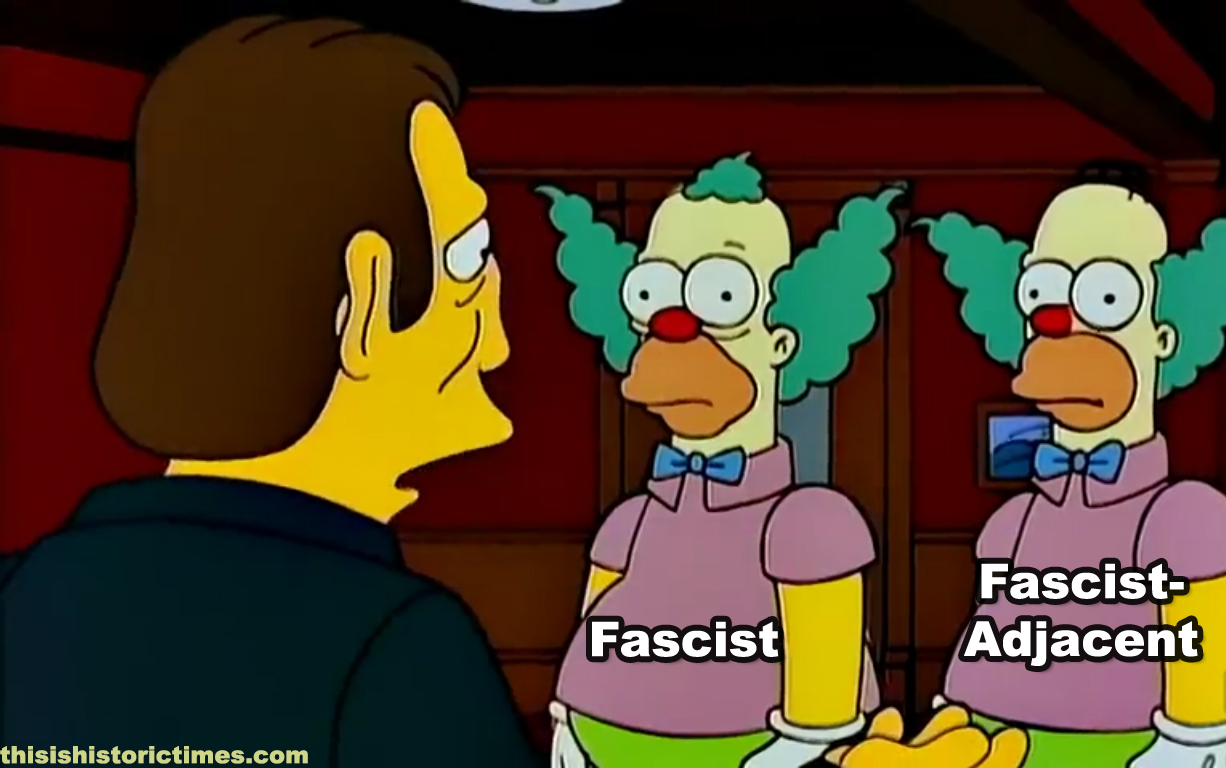 What do you think? If you liked my drawing or my thoughts on the related topics, please consider supporting them with a donation, as I recently lost my day job, and just like the rest of you, I clearly cannot depend on the incoming President for any sort of rescue any more than I can depend on the outgoing one.

I promise I won't take your donation, then immediately turn around and start doing political favors for billionaires and death–merchants, unlike these assholes.
Tags:
ACAB
,
Biden
,
Donald Trump
,
Drumpf
,
goose
,
grab em by the pussy
,
Iraq War
,
Joe Biden
,
LA Lights
,
Liberty
,
Operation Iraqi Freedom
,
Presidential election
,
Racism
,
Segregation
,
sexual assault
,
sexual predators
,
short-fingered vulgarian
,
Strom Thurmond
,
swastikufflink
,
Trump