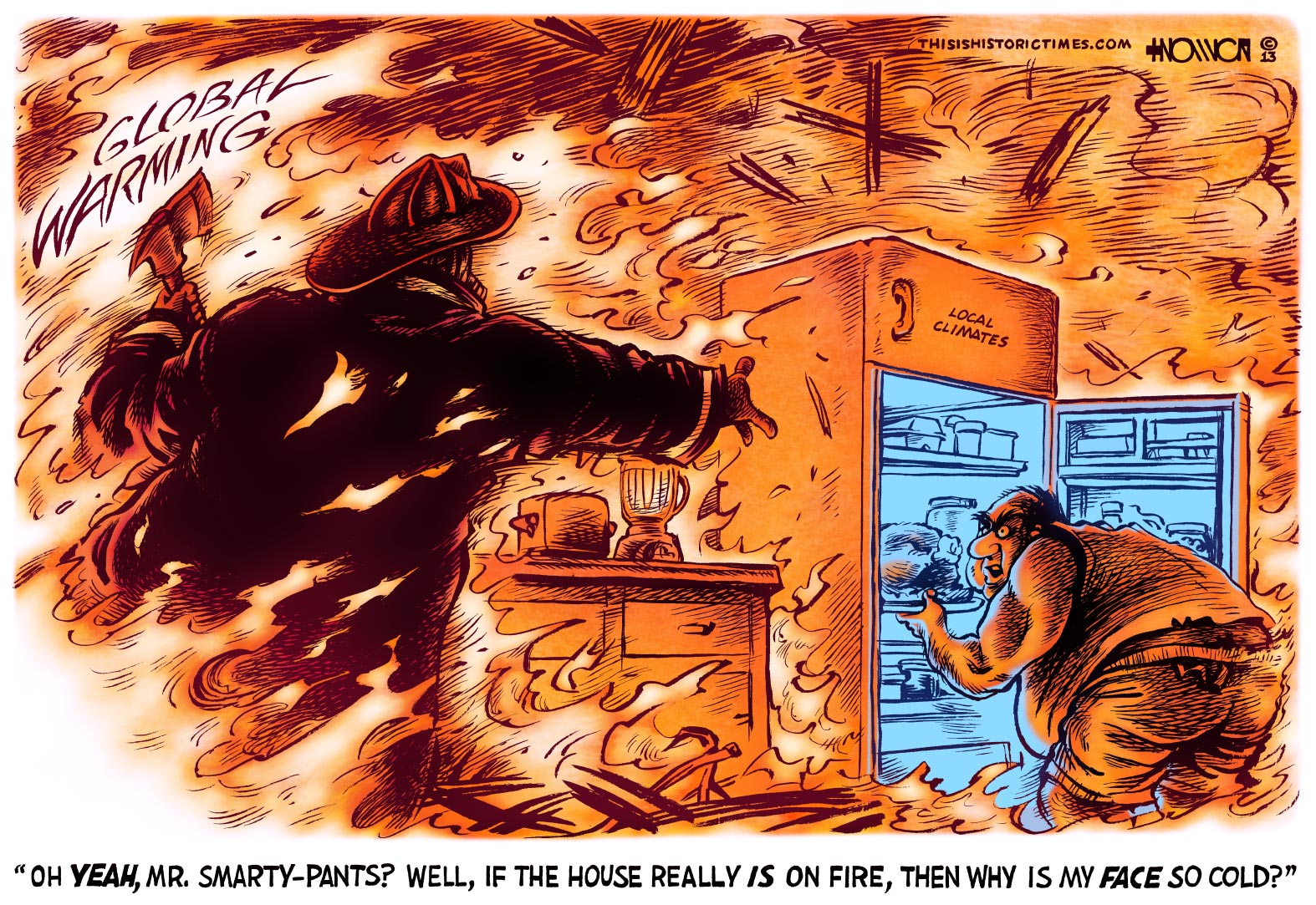 A report last week by the National Oceanic and Atmospheric Administration, coupled with the freakish weather of 2012, made it all the more abundantly clear that Global Warming is in fact a thing that is happening, whether we choose to stick our heads in the sand or not.

NOAA's report stated that "2012 was the 10th warmest year since records began in 1880," the 36th consecutive year (since 1976) that the yearly global temperature was above-average, with 2010 being the hottest ever recorded. These trends do not lie, and as far as mankind's responsibility goes, I'm certain that if you were to lay a graph of yearly global temperatures over a graph of fossil fuel burning since 1976, you would see a direct correlation between the two!

I first penciled this cartoon out in 2011, when someone I was arguing with literally and unironically attempted to cite how cold it was outside as a refutation of Global Warming. I thought the above characterization might explain the difference between global and local temperatures in terms that even the most pig-ignorant among us could understand.

As a reminder to my readers, I still need help selecting my 10-20 best cartoons from 2012. I also could still use donations to cover the cost of entry fees for contests like the Pulitzer. Even $50 to enter just that contest alone is a lot for me, since my regular income at the moment is still $0.
Tags:
burning
,
climate change
,
denial
,
fire
,
fire helmet
,
fire rescue
,
firefighter
,
fireman
,
flames
,
global warming
,
if global warming is real why is it cold outside
,
National Oceanic and Atmospheric Administration
,
NOAA
,
ostrich
,
refrigerator