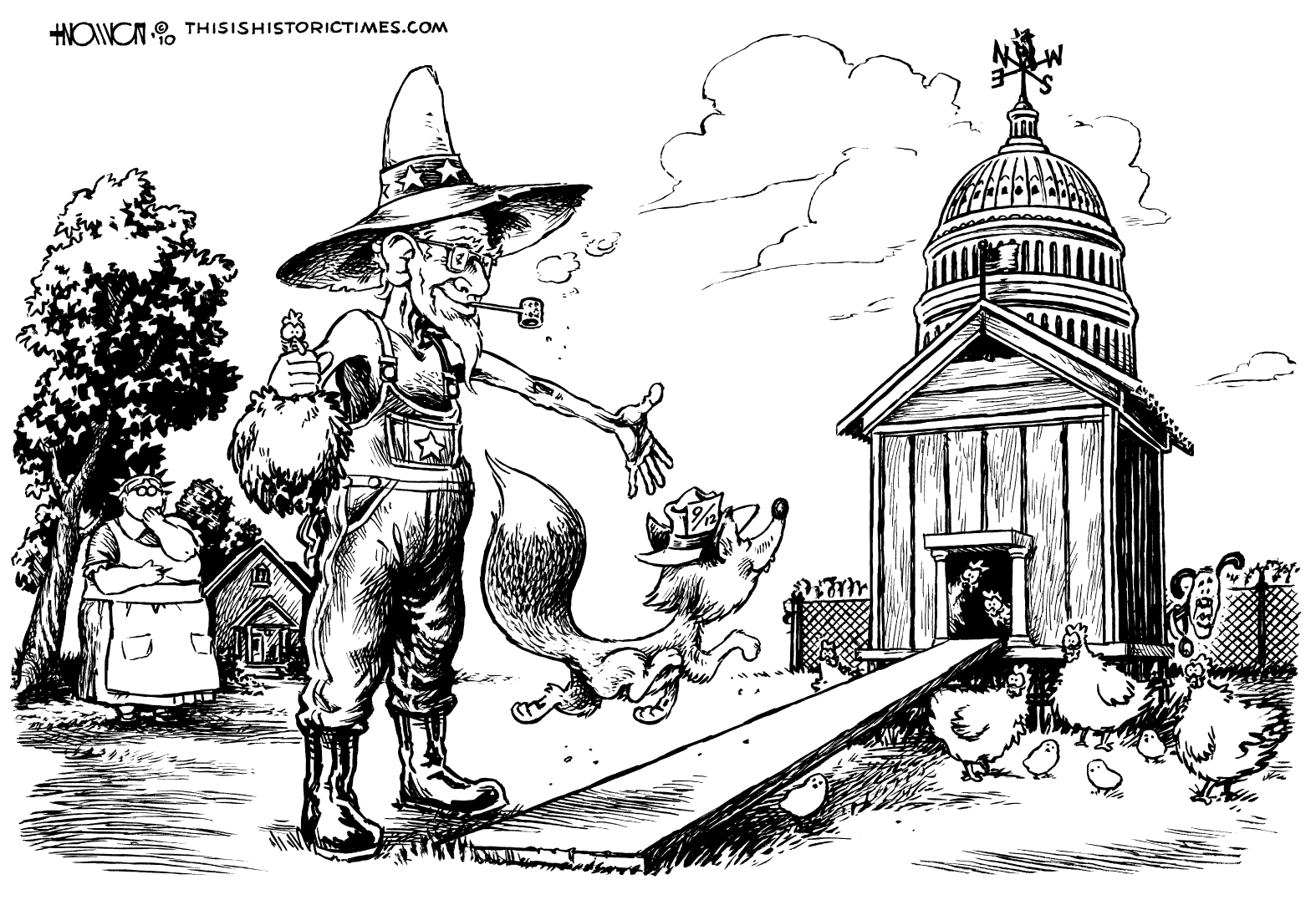 I was planning a different cartoon for Election Day, but developed the above idea before finishing it, and decided it'd be better, and that the one I was planning would stay more relevant for a bit longer. So I set the other cartoon aside and drew this one up first.

The news that the GOP has retaken control of the House of Representatives is hardly surprising, and it's not as if the Democrats were doing anything they were put there to do. Of course, Republicans are sure to put the brakes on any progress that was being made, tortoise-like though it was. That's what the insane loudmouths in the tea party demand, after all (that, and increased persecution and/or enslavement of anybody who isn't a Straight White Christian Male).

I thought this cartoon would be a clever and meaningful way to sum up the election results, since it compares Democrats to chickens, compares Republicans to a well-known destructive farm pest (which happens to be one of several unfortunate symbols they've chosen to represent themselves), and compares the electorate to a senile old hillbilly farmer.

I'm planning on sending this cartoon out to a few newspapers, to see if any of them are interested in carrying it, since I haven't really seen anything on the topic that's better. If you live in a city with a big paper (especially one with a national edition), you can help me out by suggesting they pick this cartoon up, since it'll probably mean more to them coming from a reader than it will coming from the artist himself.
Tags:
2010 mid-term election
,
9/12
,
9/12 Fox
,
Barack Obama
,
chicken
,
chicken coop
,
chickens
,
Congress
,
corncob pipe
,
Democrat
,
Democrats
,
election
,
farm
,
farmer
,
Fox
,
Fox News
,
GOP
,
hillbillies
,
hillbilly
,
Liberty
,
midterm elections
,
Obama
,
Republican
,
Republicans
,
smoking
,
tea party
,
Uncle Sam
,
weathervane