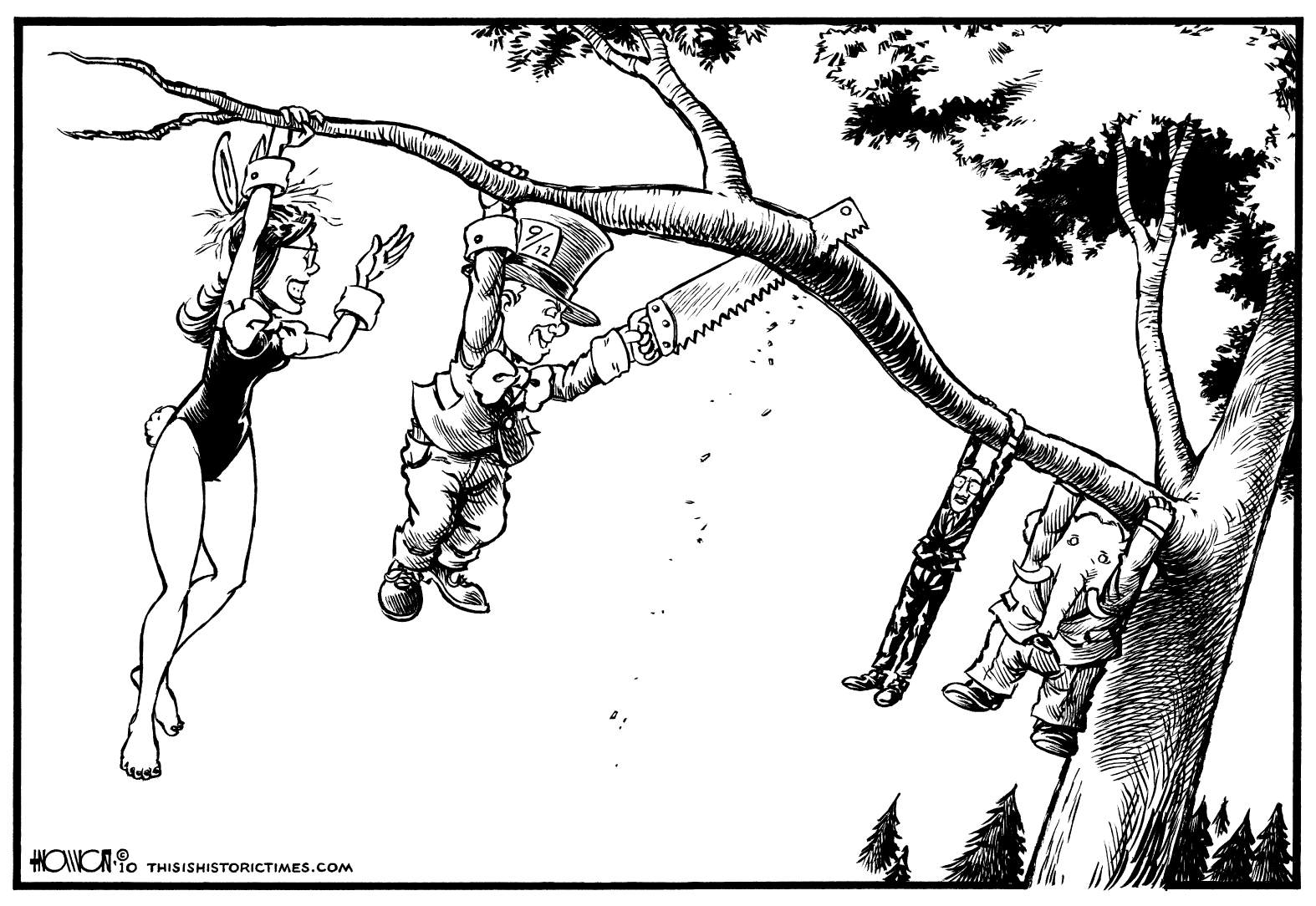 I started this cartoon shortly before the announcement that Sarah Palin had signed to become a regular contributor to Fox News, following in the footsteps of fellow Republican bullhorns/criminals Oliver North and Karl Rove. I'm not certain if this is good or bad for the cartoon, but it was not part of the intended message, either way.

Instead, what this cartoon is supposed to be about is lunatic fringe groups like the Tea Partiers attempting to sever themselves from the Republican Party. If I were a Republican, I'd say good riddance, because an association with an out-of-touch buffoon like Michael Steele is better than one with a mob of ignorant, violent racists. But then, when it comes to maximizing votes, I guess you can't afford to have scruples.

I'm particularly happy with how the modeling turned out on the tree trunk in this. The shadows from branches and things look just right! Technically speaking, the only thing I'm not happy with is the way the stresses of gravity don't really seem to be acting in a believable way on Palin's left shoulder–the way she's waving makes it look as if she's hoisting the entire left side of her body with her right shoulder. In retrospect, I probably should have angled her more steeply from right to left, so her shoulders wouldn't be as nearly parallel with the tree limb.
Tags:
9/12
,
Fox News
,
Glenn Beck
,
GOP
,
Mad Hatter
,
March Hare
,
Michael Steele
,
Palin
,
Playboy bunny
,
protesters
,
Republican
,
Republican Party
,
Republicans
,
Sarah Palin
,
saw
,
tea baggers
,
tea party