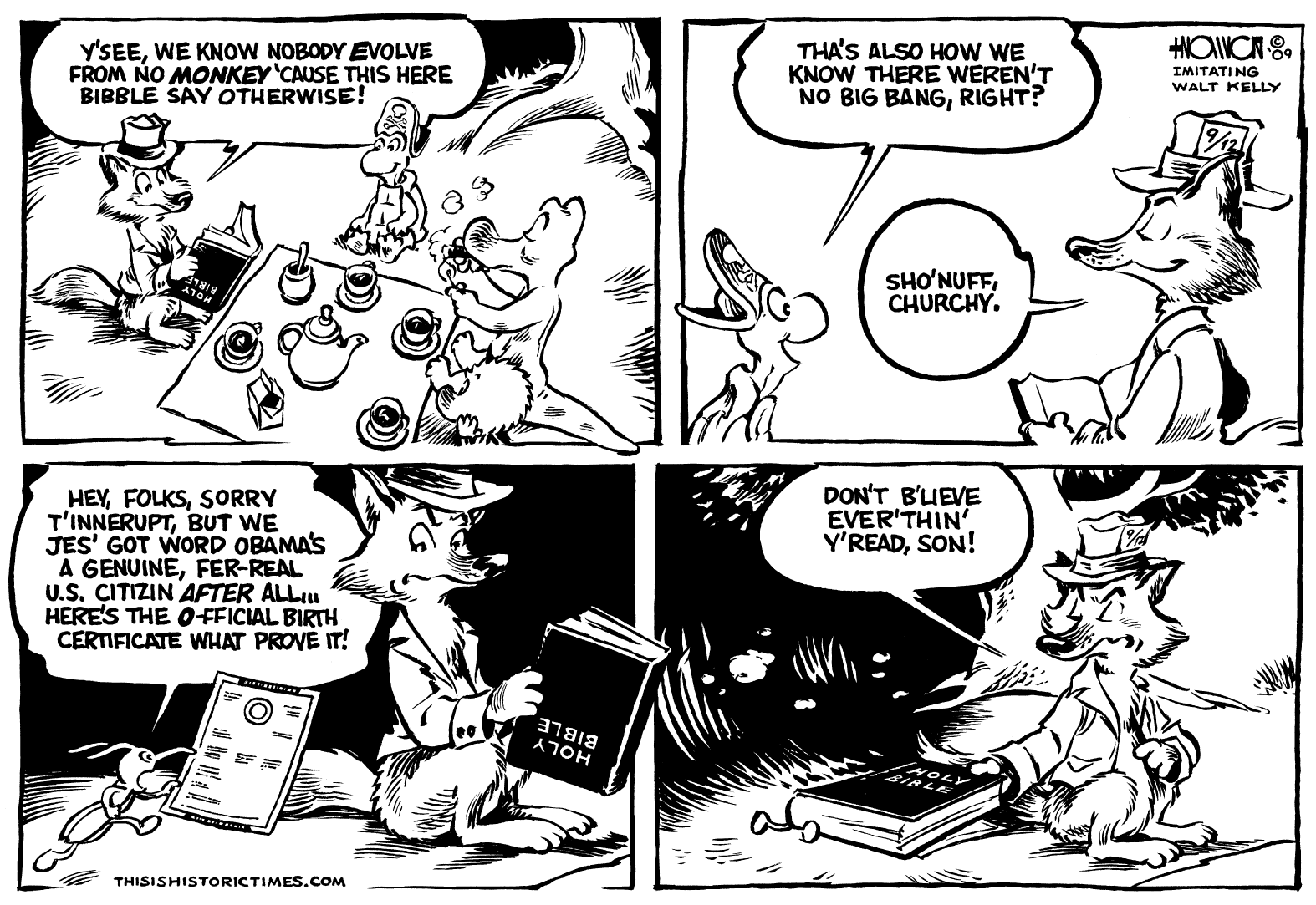 A lot of people probably won't recognize the reference to Walt Kelly's Pogo, possibly the greatest political comic strip of all time–certainly the best illustrated. For those unfamiliar, here's wikipedia's article about it.

I intended this cartoon as merely an homage, but I may have crossed the line beyond that. It's still only a poor imitation of Kelly, of course–my lettering is nowhere near as clean, stylish, or consistent as his, and my drawings of Seminole Sam are quite off-model. Except for Churchy La'Femme in the second panel, none of the drawings were copied directly from a reference, and even in that case I went a little ways off the reference so as to make the figure look a little more dynamic.

I realize Deacon Mushrat probably would've been a better character to spout the dialogue I put in the mouth of Seminole Sam, but I didn't want to have to draw that much gothic script, plus I wouldn't get the obvious Fox News pun with him. I kind of envisioned this as being in the middle of an imaginary storyline where Sam hatches a scheme to take advantage of the naive swampdwellers by pretending to be a newsman, just like Fox News regularly takes advantage of its viewers by pretending to be a news station, though of course the real Kelly wouldn't directly reference the President, and would instead make up an analogue to represent him.

I don't have the luxury of multiple strips spread out over a period of months or years with which to do that, though, which was why this was probably an ill-conceived concept, though it was a very fun challenge which will hopefully result in an improvement in my drawing.

Regardless, I hope Mr. Kelly's estate doesn't have a problem with this cartoon, so to make things perfectly clear, in case the note on the cartoon itself isn't enough: I didn't create Pogo, nor do I have anything to do with whoever owns it now, but you should go read all you can about it, because it was great, and more people should be aware of it today.
Tags:
9/12
,
9/12 Fox
,
Albert Alligator
,
Barack Obama
,
Bible
,
Big Bang
,
birth certificate
,
birthers
,
Churchy La'Femme
,
Creationism
,
Fox
,
Fox News
,
homage
,
Intelligent Design
,
Obama
,
Okefenokee
,
Pogo
,
Pogo the Possum
,
Seminole Sam
,
tea baggers
,
tea party
,
Walt Kelly