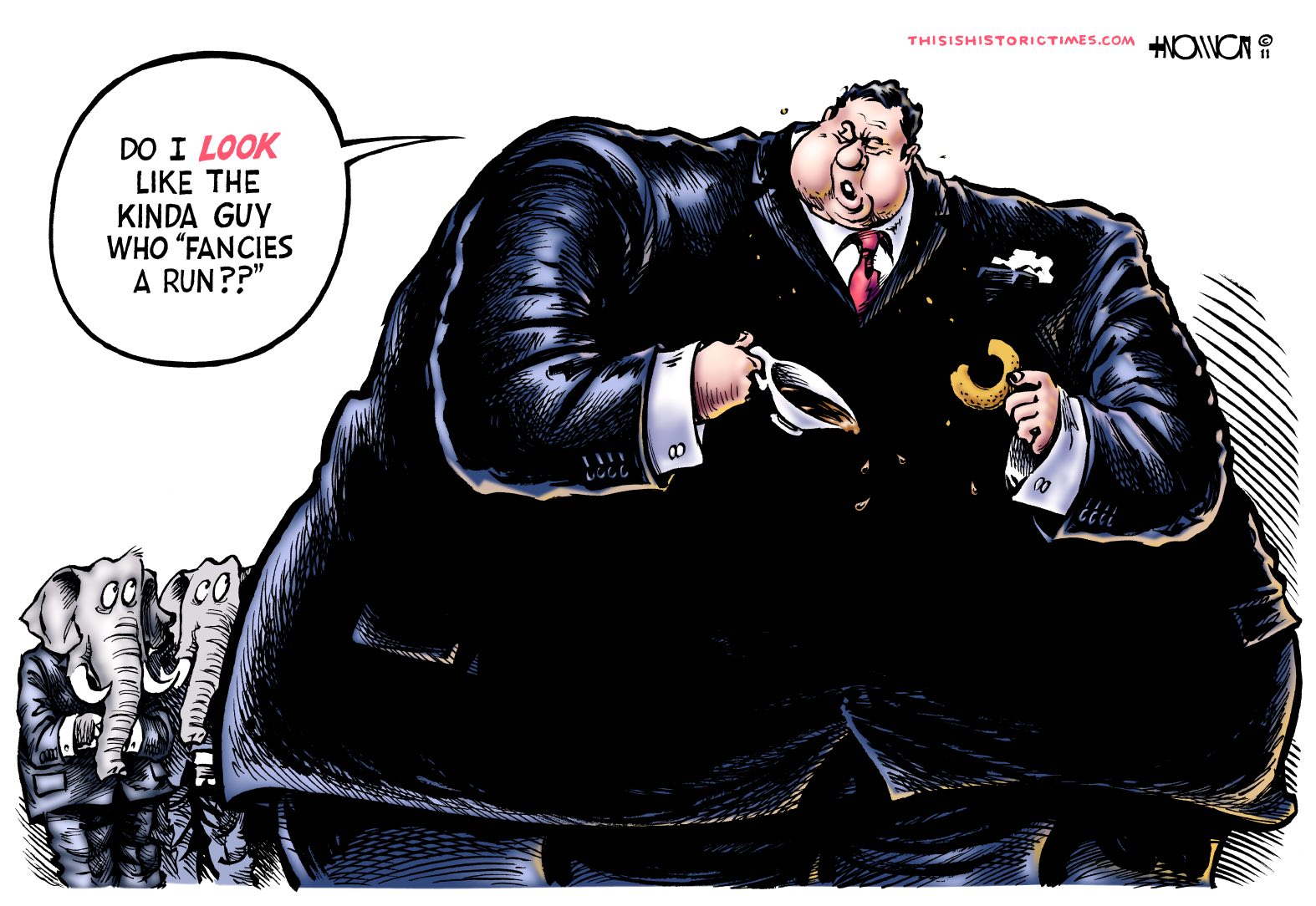 I'm trying to develop something on the topic of extra-judicial execution following last weekend's targeted killing of Anwar al-Awlaki. I have a few ideas, but I haven't settled on any of them, yet. In the meantime, I came up with this cartoon on New Jersey Governor Chris Christie, the latest potential Republican Presidential candidate-of-interest since Rick Perry followed Michelle Bachmann after Donald Trump. Does the GOP have some form of electoral A.D.D., or is it just the news media?

Like Trump, Christie hasn't announced his candidacy. Unlike Trump, he seems to have pretty clearly denied it, instead of milking coyly-dropped hints like an attention-starved prima-donna.

Indeed, Gov. Christie is about as far from any form of starvation as you can get. It's a cheap shot, I know, but unavoidable in the field of caricature. I mean, look at the guy. He looks like John Candy ate William Howard Taft. Instead of "Yo mama" jokes, we'd have to start telling "Yo President" jokes. It's Air Force One, not Sail Barge One. I'll be here all night, folks, remember to tip yer bartender.

I don't understand how anyone in the Republican Party could've thought, even briefly, that Christie would have a chance without first dropping about 200 pounds. Americans tend to want a President who's as in-shape and good-looking as they imagine themselves to be, instead of being as fat and slovenly as they actually are. They put Sarah Palin up for VP in 2008 because of her looks, more than anything else, and other tea party darlings like Christine O'Donnell and Rick Perry have seemingly fit the same bill, more or less. None of 'em made it to primaries or elections on the basis of their oratory skills, that's for sure.

Is Christie supposed to be another "establishment" candidate, like Mitt Romney, or Newt Gingrich?? I don't know. It's not like it's gonna hold anybody's attention long enough to Look, over there, it's the Herman Cain Train! Sure to be followed by the next big Republican candidate, Shiny Set of Jingling Keys!
Tags:
Chris Christie
,
doughnut
,
elephant
,
fat
,
GOP
,
GOP Primary
,
gravy
,
gravy boat
,
morbidly obese
,
New Jersey
,
obesity
,
Presidential Primary
,
Republican
,
Republican Party
,
Republican Presidential nomination
,
Republican primary
,
Republicans
,
run
,
running