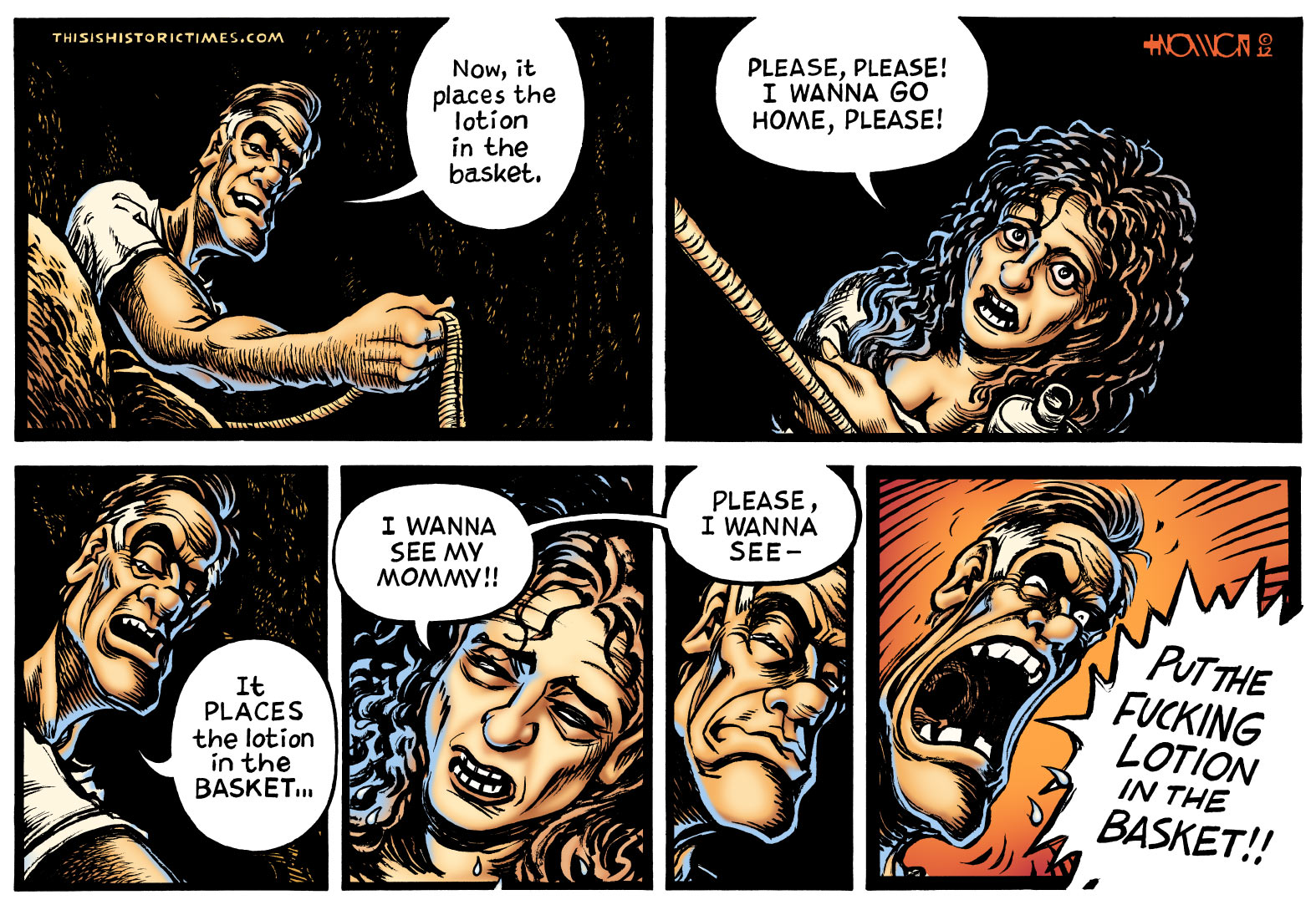 The second Presidential debate occurred on Tuesday of this past week. In strong contrast to the first, President Obama utterly thrashed his challenger; or, in the words of conservative media, it was "a tie, or perhaps a slight Romney victory."

While a big part of Obama's success this time around could be attributed to a much more energetic effort on his part, another important element was Romney's attempts to set poorly-concealed rhetorical traps which then backfired, like Yosemite Sam trying to trick Bugs Bunny into blowing himself up with an explosives-rigged piano.

Another element of Romney's demise, and certainly one of the most memorable individual moments of the debate, came from him once again saying something which sounds vaguely like it came from the journal of a serial killer. The phrase "binders full of women" echoed loudly across the web as soon as it tumbled from the candidate's mouth, resulting in Twitter accounts, hashtags, and a Facebook Page with over 100,000 likes before the debate was even over.

That's what this cartoon refers to, quoting a well-known scene from The Silence of the Lambs. I felt the murderer Buffalo Bill's flaying of his female victims in order to wear their skin might be a good (if very exaggerated) metaphor for Romney's recent attempts to make gains with women voters, because his appeals to that demographic are only skin-deep: The policies of his party, and his selection of Paul Ryan as running-mate make it abundantly clear that he doesn't really care about doing anything for women to whom he isn't married; and since his own personal policies on subjects ranging from abortion to equal pay in the workplace are ambiguous at best, he'd more than likely be a threat to women's rights by functioning as a mindless rubber-stamp for the Party of Trans-Vaginal Ultrasounds, no matter how far to the fringe it decides to tack during the next four years.

The metaphor also applies to Romney's business record, since "flay" can refer to the act of "depriving or stripping of money or property," according to Dictionary.com. I find this to be a fitting description of what Bain Capital did to struggling companies under his leadership.

But I think the focus on gender-related issues is vital, because I found Romney's attitude, and insistence of getting the first and last word on every subject during both debates very off-putting. It called the techniques of Pick-Up Artistry to mind, techniques such as "negging."

As a female friend of mine said, "His performance reminded me of every asshole who's tried to pick me up at a party by 'dominating' the conversation… basically talking over everyone else so you can see how damn witty and alpha-male he is."

I couldn't understand why so many people ate it up during the first debate, so before Joe Biden mopped the floor with Paul Ryan last week, I toyed with the idea of a cartoon comparing Romney to Gaston from Disney's Beauty & the Beast–a selfish, stupid, violent loudmouth whose obnoxiousness is inexplicably celebrated by the community and lusted over by brainless "Bimbettes," even as he openly plots to "persecute" the elderly and feeble-minded so as to force someone to marry him, whether she likes it or not!

How could people be fooled by such transparent arrogance and dishonesty? Surely women should've reacted in the same manner as my friend?? But no, polls after the debate showed Romney narrowing (and in some cases winning!) the gender gap, as well as all others. Apparently, Americans as a group are more like the Bimbettes than they are like Belle.

On an unrelated subject, I was pleased and relieved that this site's readers came through with donations to renew the domain name – and some people are still helping out! As I mentioned a few weeks ago, I'm thinking it'd be a good idea to start doing more online advertising: The first two campaigns I ran on Facebook and Google (Adwords) with their service-trial coupons produced decent results during their brief, Mayfly-esque existence, especially Facebook. If you haven't already, please shoot me a few bucks to put towards that!
Tags:
alpha-male
,
Bain Capital
,
Barack Obama
,
Beauty & the Beast
,
Belle
,
Bimbettes
,
binders full of women
,
Buffalo Bill
,
Bugs Bunny
,
debate
,
Debates
,
Gaston
,
it rubs the lotion on its skin or else it gets the hose again
,
misogyny
,
Mitt Romney
,
murder
,
murderer
,
Obama
,
pick-up artist
,
Presidential debate
,
Presidential election
,
PUA
,
Romney
,
serial killer
,
Silence of the Lambs
,
Those Endearing Young Charms
,
trans-vaginal ultrasound
,
War on Women
,
women
,
women's issues
,
women's rights
,
Yosemite Sam