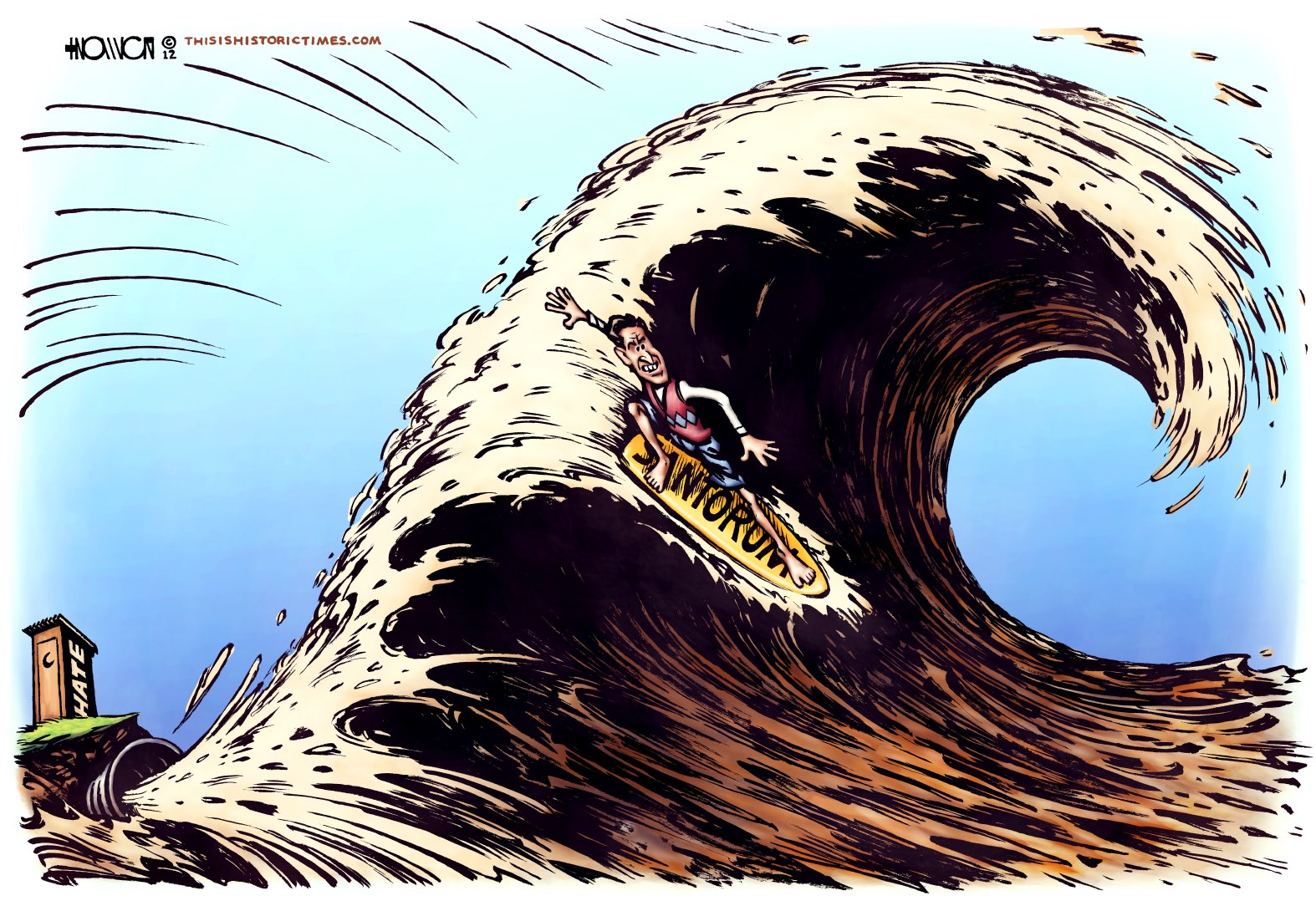 Well now, this is one of the most disgusting images I've drawn in quite some time! But then again, Rick Santorum is a pretty disgusting person; moreso due to his political and "moral" views than that other thing his name represents.

The idea for this cartoon dates back to Santorum's victory in the Iowa caucus, early last month. I thought it was funny enough at the time, but shelved it because I wasn't sure Santorum'd manage to stick around for long afterwards. Fortunes can change rather quickly in the primary process, and I've had more than one cartoon's relevance weakened, this cycle, by starting it while a candidate remained in the race, only to have him or her drop out hours before I finished.

Unbelievably, following a three-state sweep last week, Rick Santorum now appears to be a more serious contender for the Republican nomination than first thought. If Mitt Romney could feel feelings, he'd surely be pretty sad right about now–guy's so disliked, he's struggling to compete against a racist, serial adulterer; the racist pilot of a gold-plated Hindenburg; and a third racist who's also such a flaming homophobe, people across the country united to officially redefine his last name as meaning this (no, I'm not gonna say it–most of you know what I mean, and it's funnier to leave it implied for those who don't).

Huh. I guess the average Republican would still rather vote for one of at least two wholly unlikable humans than for a corporation impersonating a human. Perhaps there's hope for them, yet!

Most (if not all) of Santorum's electoral victories so far have been in caucus states, rather than primaries which actually pledge any delegates. I realized, while writing this, how funny and oddly appropriate that is, considering the prominent anti-gay aspect of his candidacy, and what "caucus" sounds like, if you pronounce the second vowel with more of an æ sound. Caucus. Kawkæs.

Santorum.
Tags:
bigotry
,
gay marriage
,
GOP
,
GOP Primary
,
hate
,
outhouse
,
Republican
,
Republican Party
,
Republican Presidential nomination
,
Republican primary
,
Rick Santorum
,
santorum
,
sewage
,
sewage pipe
,
sewer
,
surf
,
surfboard
,
surfer
,
surfing
,
sweater vest
,
wave