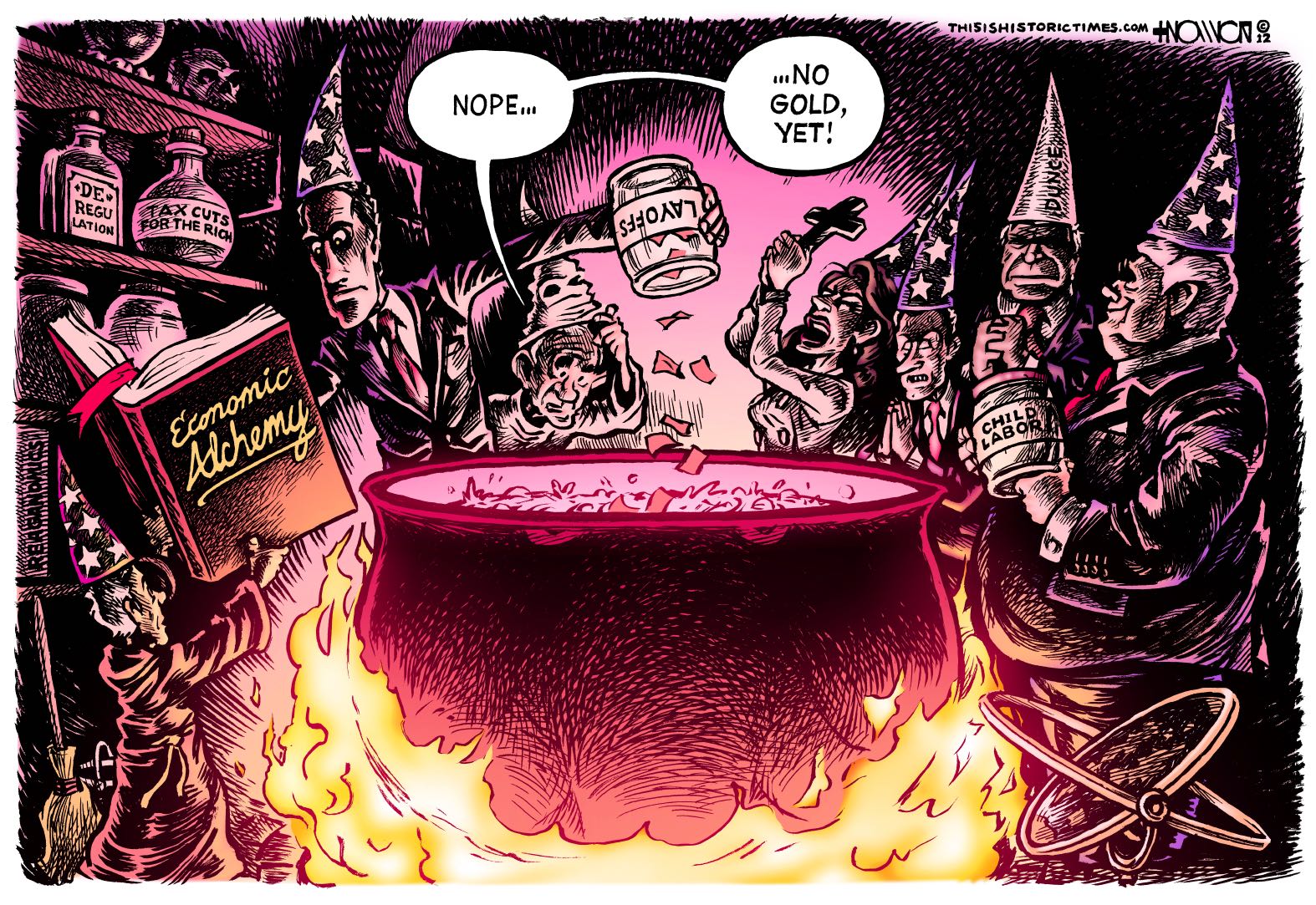 This was the cartoon I mentioned in the previous post, which I started drawing about a week ago, but set aside so I could end 2011 with something else.

As I expected, Michele Bachmann dropped out of the race for the GOP Presidential nomination following yesterday's Iowa primary. Rick Perry appears to be limping along, but hasn't given up yet, in spite of his poor Iowa showing and poor campaign performance in general.

As with the last cartoon I drew including Herman Cain, I did have time to remove Bachmann from the cartoon after I decided she'd probably drop out, but before inking it. However, I just loved how she looked in the picture, and none of the other candidates seemed like a better representative of the crazed, speaking-in-tongues wing of the Republican Party, so I figured I'd give her a last hurrah. Besides, this cartoon's more about the candidates' ideas than the candidates themselves, and some of Bachmann's particular brand of insanity is bound to stick around in the campaign dialogue for at least a little while.

I had a lot of fun with the details in this one. Longtime readers with good eyes may recognize the crystal ball (or palantir, for you Tolkien enthusiasts) from this cartoon in the upper-lefthand corner. The flat Earth globe in the corner opposite was originally included as a relatively meaningless goof, but after awhile, I realized it could be taken to relate to Thomas Friedman's "World is Flat" economic ideology, for better or for worse. The two "alternate" pointed hats on Ron Paul and Rick Perry were not part of my original idea, but something I came up with on-the-fly.

The book in the background, labeled "Reaganomics," was originally going to be labeled "Creationism." I thought it'd be a funny joke relating to all the candidates' supposed religious backgrounds, while tying into the general theme of pseudo-science, but it didn't fit the overall theme of economics very well, so I changed it, at the last minute, to the more reliable workhorse. I also considered having it read "Voodoo," but thought that might be too obscure for the average person.

Some of you may have noticed the art in the last cartoon looking a little different, and this one looking more familiar. This was because I got a small Wacom for Christmas, and the last cartoon was the first one I colored with it. I planned to do the same with this one, but I already lost the pen–it's possible I left it at a friend's house in Bellingham, WA, where I went for New Year's Eve, but if not, I'll have to get another one before I can continue coloring cartoons that way.
Tags:
alchemy
,
Bellingham
,
bloodninja
,
campaign
,
campaign season
,
cauldron
,
child labor
,
crystal ball
,
deregulation
,
dunce
,
dunce cap
,
economics
,
Economy
,
flat earth
,
gold
,
gold standard
,
GOP
,
Grand Old Party
,
Intuos4
,
Jon Huntsman
,
KKK
,
Klan
,
Ku Klux Klan
,
layoffs
,
lead into gold
,
lost pen
,
Michele Bachman
,
missing pen
,
Mitt Romney
,
Newt Gingrich
,
palantir
,
pen
,
pinkslip
,
Presidential campaign
,
pseudoscience
,
Reagan
,
Reaganomics
,
Republican
,
Republican Party
,
Republican Presidential nomination
,
Republican primary
,
Republicans
,
Rick Perry
,
Rick Santorum
,
Ron Paul
,
Ronald Reagan
,
tax cuts for the rich
,
tax cuts for the wealthy
,
The Sorcerer's Apprentice
,
The World is Flat
,
Thomas Friedman
,
Wacom
,
wizard hat
,
world is flat