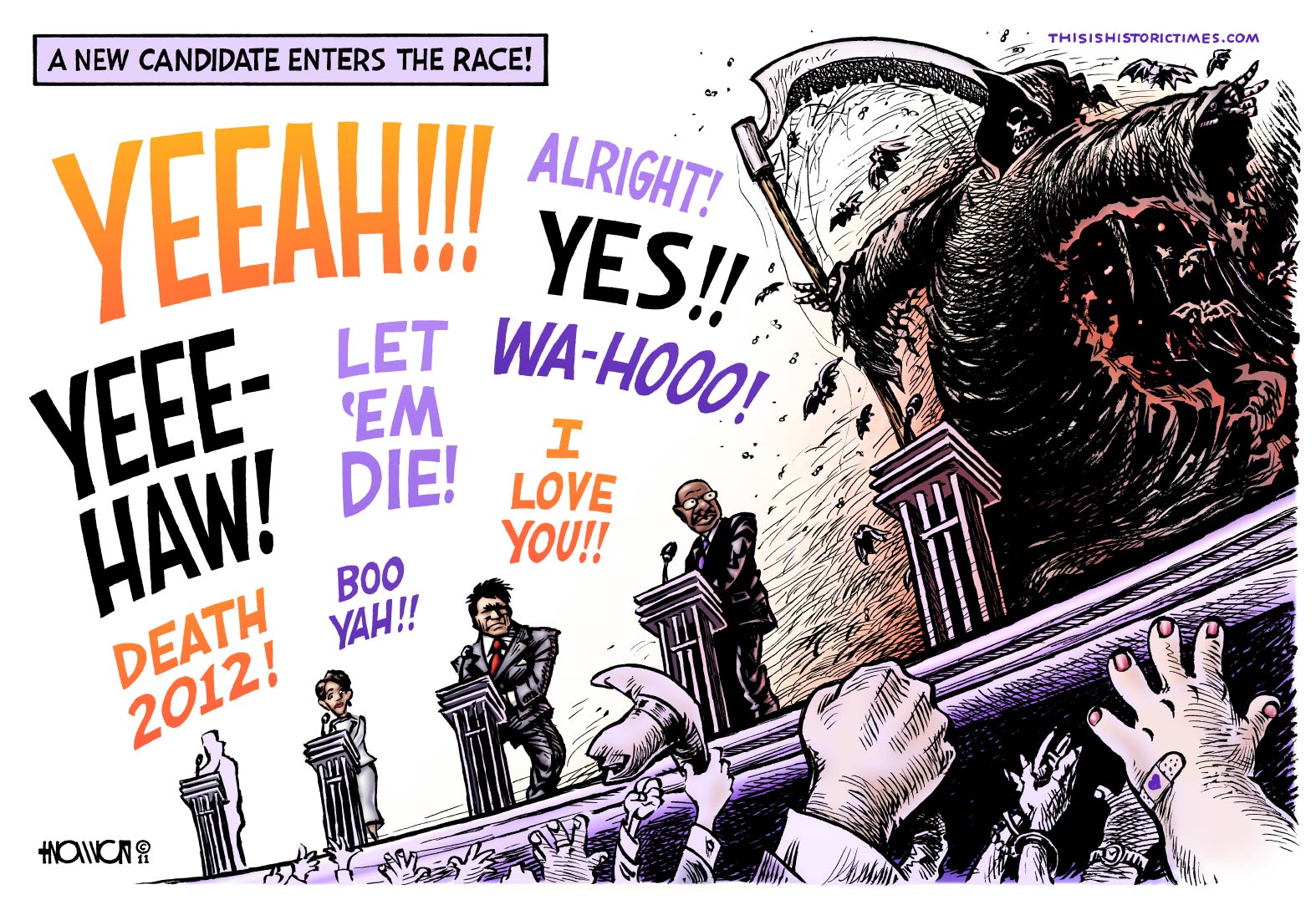 This cartoon follows comments by Republican Presidential candidate, pizza entrepreneur, and Pokemon: The Movie 2000-fan Herman Cain. While discussing the topic of illegal immigration with supporters in Tennessee, Cain said that he'd like to build a lethally-electrified fence along the USA's border with Mexico. Since making this speech, Cain's flip-flopped on whether he was being serious or he was merely joking, though from what I last heard, he remains 100% committed to a US-Mexico Death Fence.

The enthusiastic reaction of the crowd at Cain's speech seems to fit right in with audiences at several recent debates warmly applauding Rick Perry's execution record and the concept of abandoning the uninsured to die. Since the Republican "base" seems to be so pro-death, I figured they may as well go all in and run Death as their next candidate for President.

DEATH/PERRY 2012!
Tags:
2012 Presidential election
,
angel of death
,
bats
,
border
,
border fence
,
campaign
,
campaign season
,
cobwebs
,
death
,
Death 2012
,
death fence
,
Death for President
,
death row
,
Death/Perry 2012
,
electric fence
,
execution
,
flies
,
GOP
,
grim reaper
,
Herman Cain
,
illegal immigrants
,
illegal immigration
,
immigrants
,
immigration
,
let 'em die!
,
Mexico
,
Michele Bachmann
,
Nixon hands
,
Pokemon: The Movie 2000
,
Presidential campaign
,
Presidential election
,
Presidential Primary
,
Purple Heart band-aid
,
Republican
,
Republicans
,
Rick Perry
,
scythe
,
spiders
,
spiderweb
,
v for victory