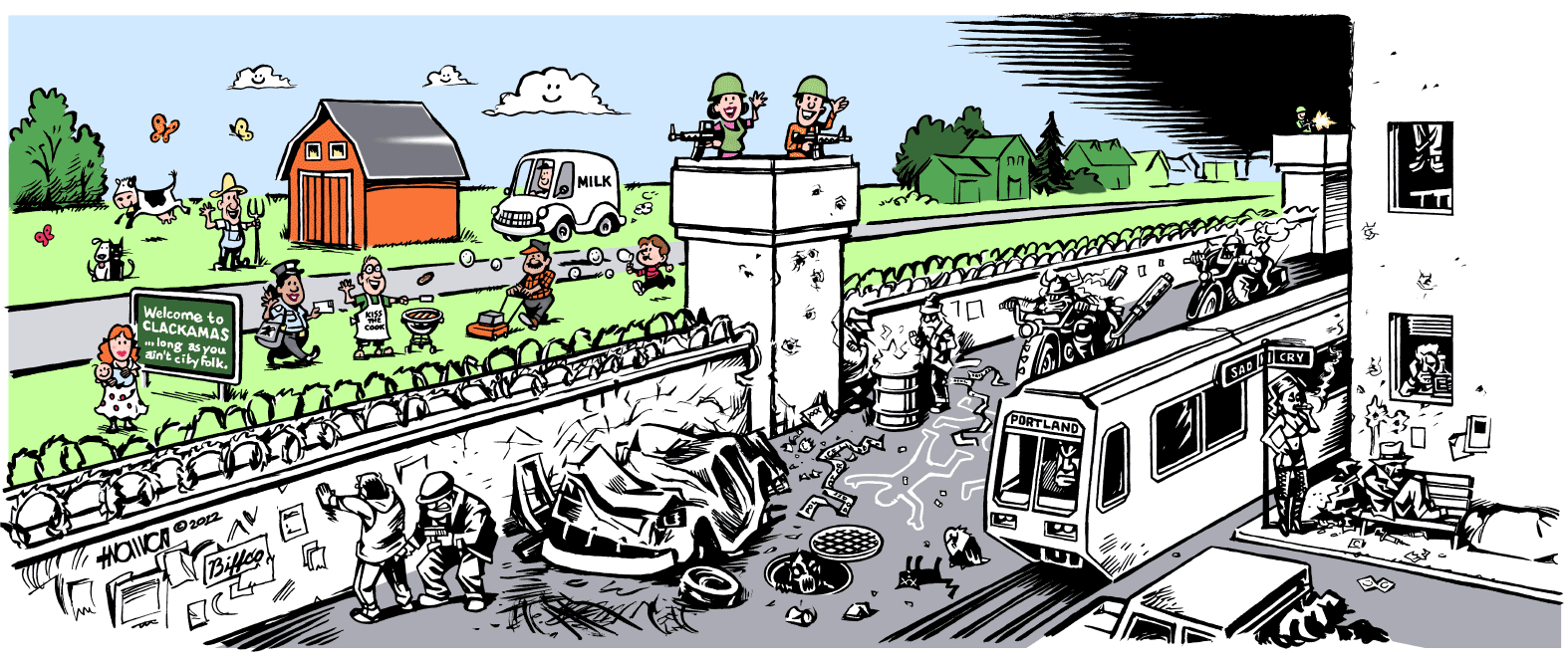 I was very busy this week finally getting a redesign for This is Historic Times online, so I didn't have time to draw a new cartoon for the site. In the meantime, the above is an illustration I drew for the Portland Mercury a couple of weeks ago. The graphics editor at the paper was responsible for the overall creative concept, although most of the details were left up to me.

For non-Portland residents whom this may leave in the dark, here's a link to the Mercury's article on the topic, which concerns people in the suburbs/surrounding counties apparently feeling threatened by urban sprawl, and a ridiculously heavy-handed billboard they put up to make that point clear.

I tried to pattern the look-and-feel of the "happy" side of the drawing somewhat after Ward Sutton's "Kelly" cartoons appearing in the Onion, whereas the "sad" side borrows elements from 1985A in Back to the Future: Part II, the propaganda-style illustrations of Aidan Hughes, and even contains a C.H.U.D.

It was a fun drawing to produce, though I do feel I ended up having to rush some of it, and the end result was consequently a bit sloppy.

As for the website redesign, it was in development since late 2010, although I didn't really start focusing on it until over a year later, and didn't even have the necessary server access to upload changes until a few days ago. In addition to adding blog-standard features that were conspicuously absent before, and adjusting or even overhauling the entire look & feel, I also finally went about the arduous task of reuploading every cartoon in larger and more standardized dimensions.

They aren't as bandwidth-friendly, because of this, but they look a lot nicer, and I'm hoping this results in a lot of attention from people with tablet-computers, which were practically nonexistent when this site first went online less than four years ago.

People were requesting these changes for years, and I wish I'd gotten them done much sooner, when my website's traffic wasn't so anemic. The most significant addition, along those lines, is a searchable archive, which should make it much easier for readers to find specific cartoons, without having to page through every single thing I've posted since.

There are still little adjustments to be made here and there which I'll be taking care of over the next few days. If you think of anything major which I seem to have ignored, please send me an email.

If you like the updated design and appreciate the effort I've put in thus far, please consider giving me a donation.

I hope to have a new, national-topic cartoon up in less than a week. Thank you for your continued readership!
Tags:
1985A
,
Aidan Hughes
,
alternative newspaper
,
Back to the Future: Part II
,
Biffco
,
brute
,
Bruteprop
,
C.H.U.D.
,
Clackamas
,
design
,
design update
,
Hell Valley
,
Kelly
,
Mercury
,
Oregon
,
Portland
,
Portland creep
,
Portland Mercury
,
redesign
,
the Onion
,
urban sprawl
,
Ward Sutton
,
website