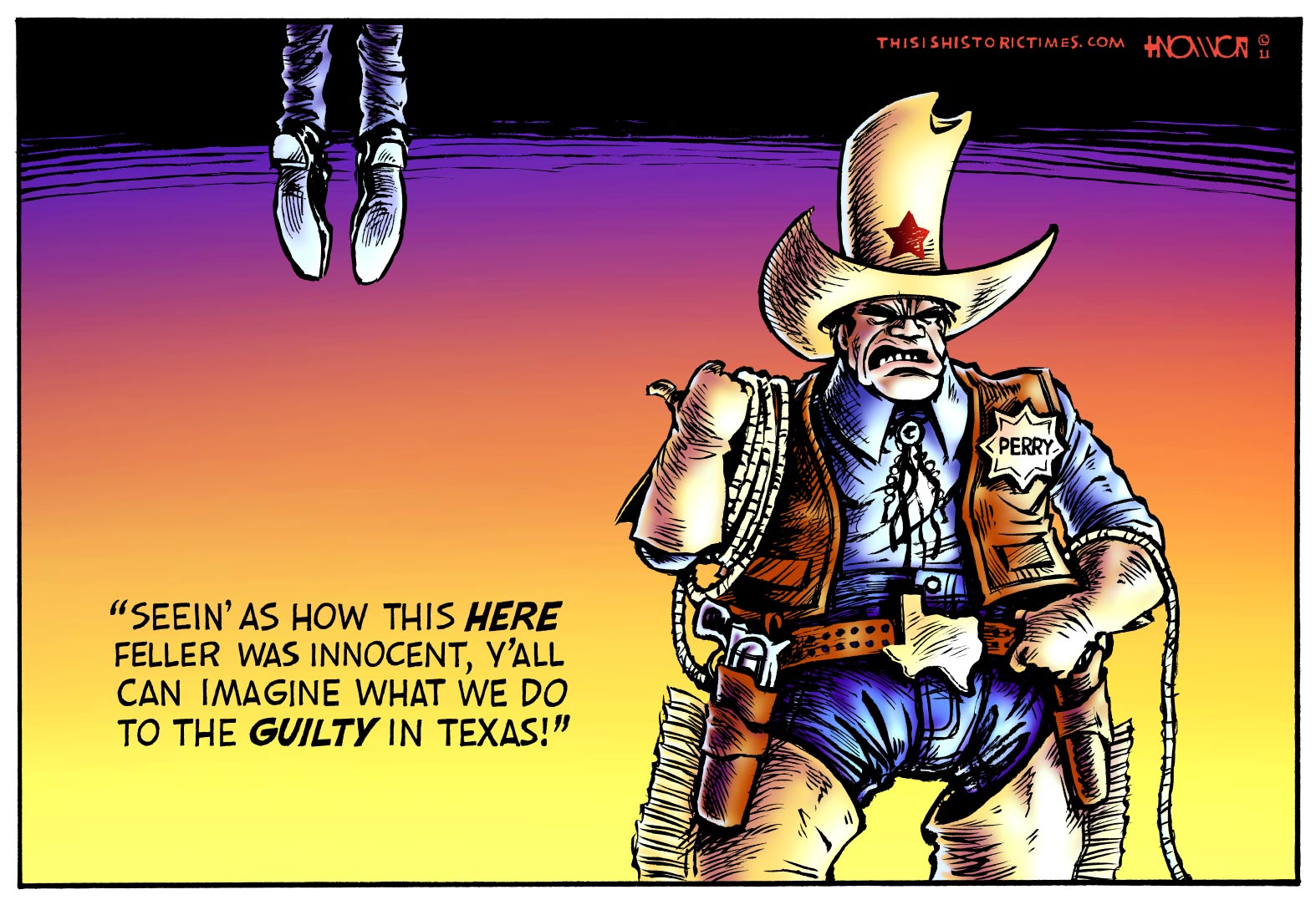 It's been years since I first thought about doing a cartoon on this subject, but I only figured out how to articulate it the other day, shortly after last week's Republican debate in the Reagan Library.

Those who saw the debate may have noticed that the biggest applause line of the night was Brian Williams' pointing out the fact that Rick Perry, the current leader for the Republican Presidential nomination in 2012, has executed 234 people during his term as the Governor of Texas–"More than any other governor in modern memory."

The question that followed was roughly, "Do you ever find it difficult to sleep, wondering if any of the people you put to death may have been innocent?" and Perry's response was chilling. I appreciated that Williams asked something like this, especially after the first half of the debate was mostly slow-pitch softball, but he still didn't really knock it out of the park by bringing up any specific examples.

One such example, the one that made me first take notice of this topic years ago, concerned the case of Cameron Todd Willingham, a Texas man convicted of arson and murder after his family died in a 1991 house fire. Willingham consistently maintained his innocence throughout his trial and incarceration, refusing to plead guilty in exchange for life in prison because he could not take responsibility for something he didn't do. He languished on death row for over ten years, appealing to Governor Perry for clemency, but was ignored and finally executed in February, 2004. Both before and after, there were serious concerns about the evidence used to convict Willingham, and several independent investigations afterwards concluded that he was surely not guilty, as he'd claimed all along.

Generally speaking, this case, and others like it, are good arguments against the death penalty. If you execute a person who's later proven to have been innocent, there's nothing you can do to make up for your mistake. "My bad" doesn't do the wrongfully accused much good after he's dead. In this specific case, the mistakes leading to conviction were known well before the execution was carried out, and Governors Bush and Perry both had plenty of time to intercede on Willingham's behalf.

Alas, both were compassionless morons, and members of an ever-more-openly bloodthirsty political party. I missed the CNN debate on Monday of this week, because the last CNN debate was godawful. However, I did see a few highlights from it on Tuesday's episode of The Daily Show, which included Wolf Blitzer posing an idiotic hypothetical about whether a 30-year-old without health insurance who falls into a coma should be treated by the state or allowed to perish, and several people in the audience cheering and shouting "Let him die!!"

That's the "pro-life" crowd for ya.
Tags:
Cameron Todd Willingham
,
capital punishment
,
cowboy
,
cowboy hat
,
death row
,
execution
,
GOP
,
governor
,
Justice
,
lynching
,
Republican
,
Republican Party
,
Republican Presidential nomination
,
Republican primary
,
Republicans
,
Rick Perry
,
Texas