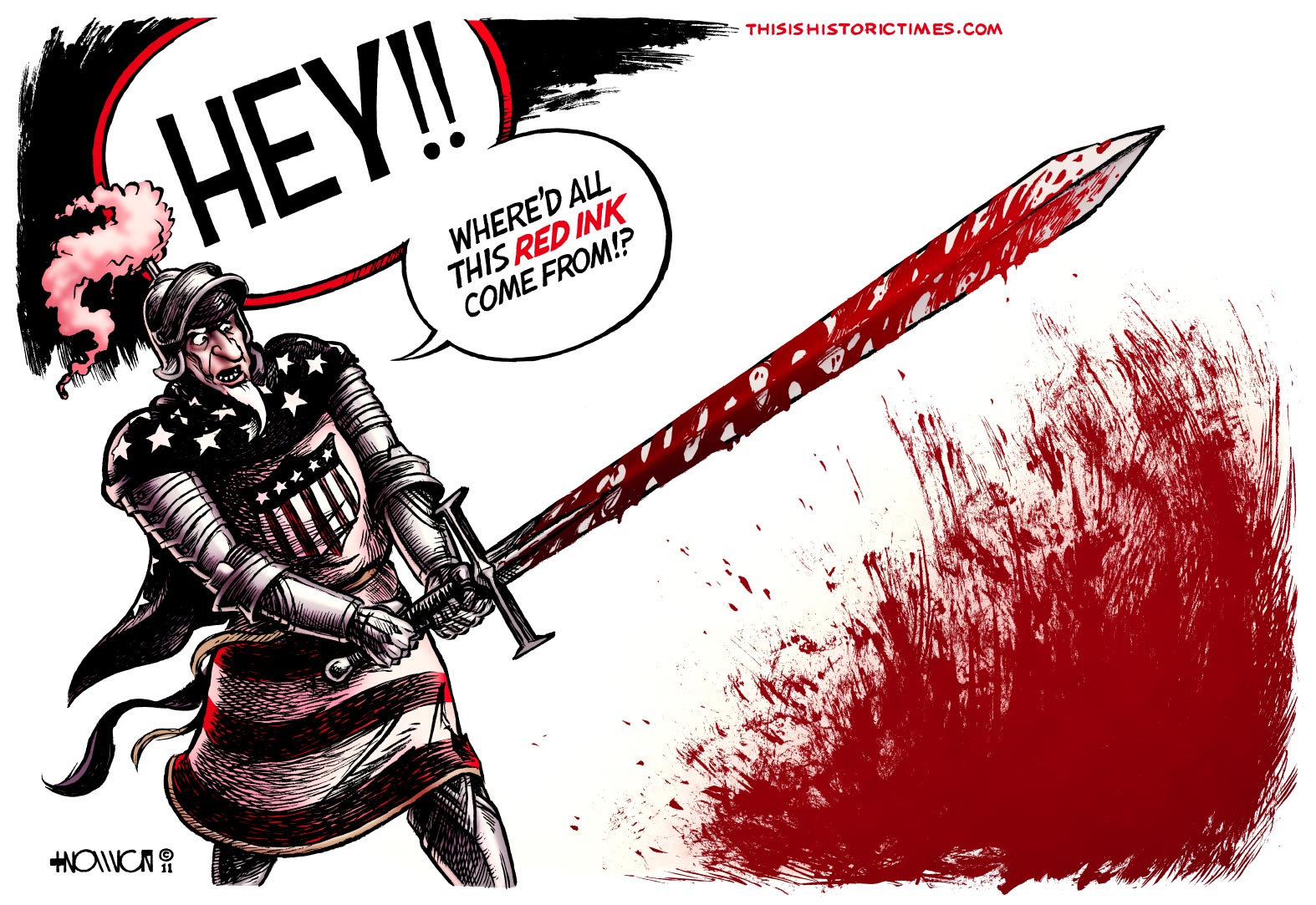 I first sketched the above idea several months ago, but for some reason it never got beyond my sketchbook. Since the US hit its debt ceiling on Monday, I thought now might be a good time to haul out the gag.

There's a lot of finger-pointing going on in Congress and around the country as to the blame for the budget mess, which has been going on since well before the 2010 midterm election. I feel the recent explosion in the deficit has a lot to do with cutting taxes, especially on corporations, while waging an incredibly wasteful, multi-front war for the purpose of funneling money to war profiteers defense contractors.

Speaking of the devil, the cartoon's title is a reference to the movie War, Inc., a John Cusack satire of the military-industrial complex from 2008 which is sort of a spiritual sequel to an earlier movie of his, Grosse Pointe Blank. While it was critically panned for heavy-handedness and having a much more predictable plot than its predecessor, I'd recommend it to anyone who hasn't seen it for Dan Akroyd's spot-on impression of Dick Cheney, if nothing else. It also has one of the best names I've ever heard for a character in a movie, "Yonica Babyyeah."

I have a couple of other things I'm trying to develop, including a cartoon on Congress deciding not to repeal $2 billion in tax breaks for oil companies, but since my sister's getting married on Saturday, I don't know if I'll be able to finish anything new before Sunday. Keep an eye on your RSS feed or my Twitter.
Tags:
armor
,
blood
,
debt
,
debt ceiling
,
deficit
,
Federal budget
,
Grosse Pointe Blank
,
John Cusack
,
knight
,
military industrial complex
,
plate armor
,
red ink
,
suit of armor
,
sword
,
Uncle Sam
,
war
,
war debt
,
War Inc.