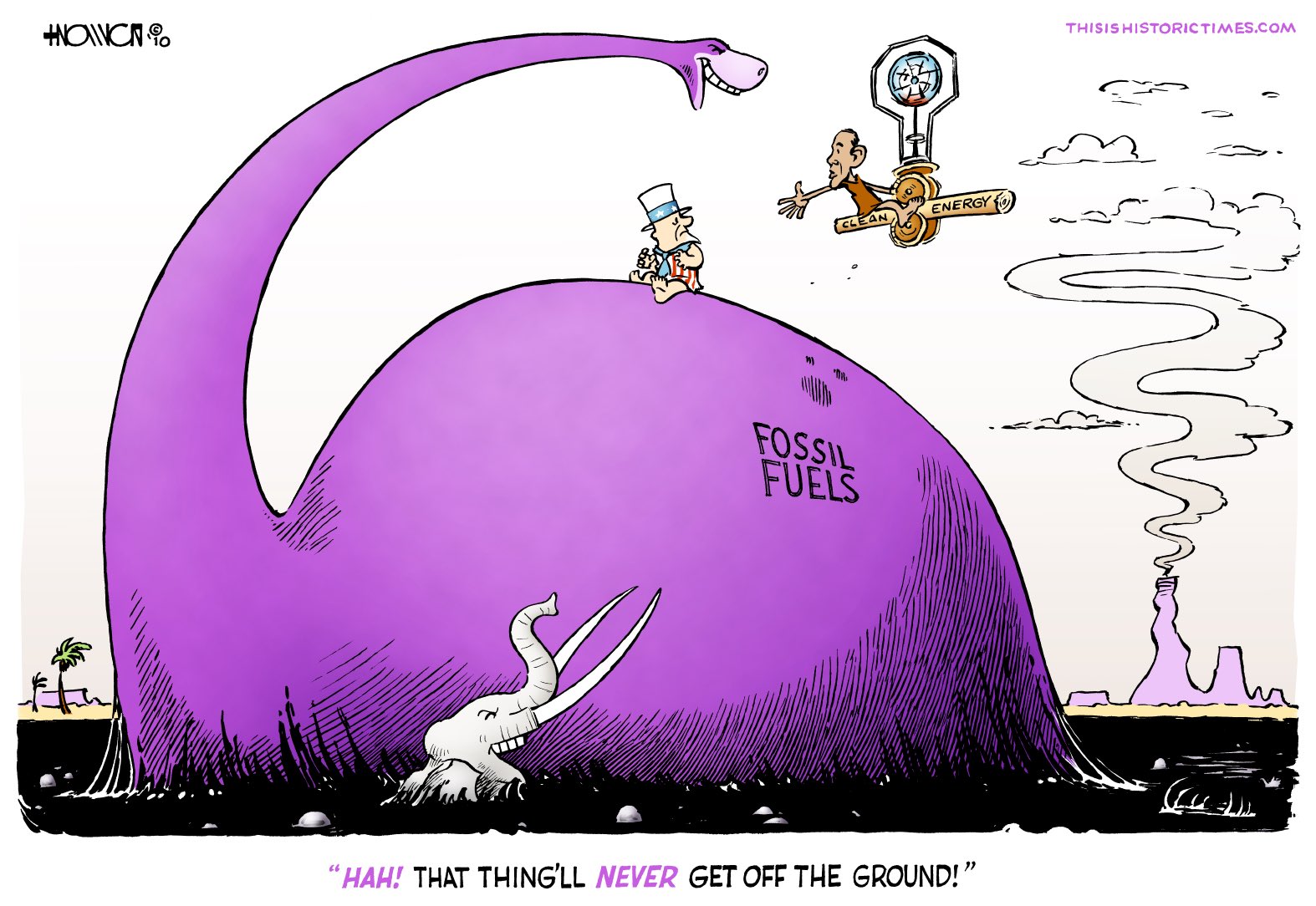 The label on that vehicle Obama's riding is a little too small, even with the cartoon's size bumped up a bit from usual. It reads "Clean Energy."

This cartoon is based on a speech the President made recently calling for an end to America's dependence on fossil fuels, in response to several recent disasters involving them, including the oil spill in the Gulf of Mexico.

Before the speech, I was considering a variety of different gags, including a story with Walt Kelly's characters from Pogo, and a bit involving B.P. Richfield and Earl Sinclair from the highly-underrated early-'90s sitcom Dinosaurs. But both of these were quite long, and involved references to things most people wouldn't recognize, so I tried to come up with something a little more-succinct and less-esoteric than either.

The gag I went with involves a reference to the first episode of The Flintstones. In the episode, Barney Rubble invents a helicopter he dubs the "Barneycopter," but Fred insists on calling it the "Flintstone Flyer." Then, they use Barney's amazing invention for the mundane purpose of skipping a trip to the opera to go bowling instead. Whatever you want to call it, I thought the prehistoric helicopter looked sort of like a windmill, so I figured it would be a good symbol for renewable energy.
Tags:
Apatosaurus
,
Barack Obama
,
Big Oil
,
Brontosaurus
,
cavemen
,
dinosaurs
,
elephant
,
Flintstone Flyer
,
Flintstones
,
fossil fuel
,
GOP
,
Gulf of Mexico
,
helicopter
,
Obama
,
Oil
,
oil spill
,
Republican
,
Republicans
,
tar pit
,
windmill