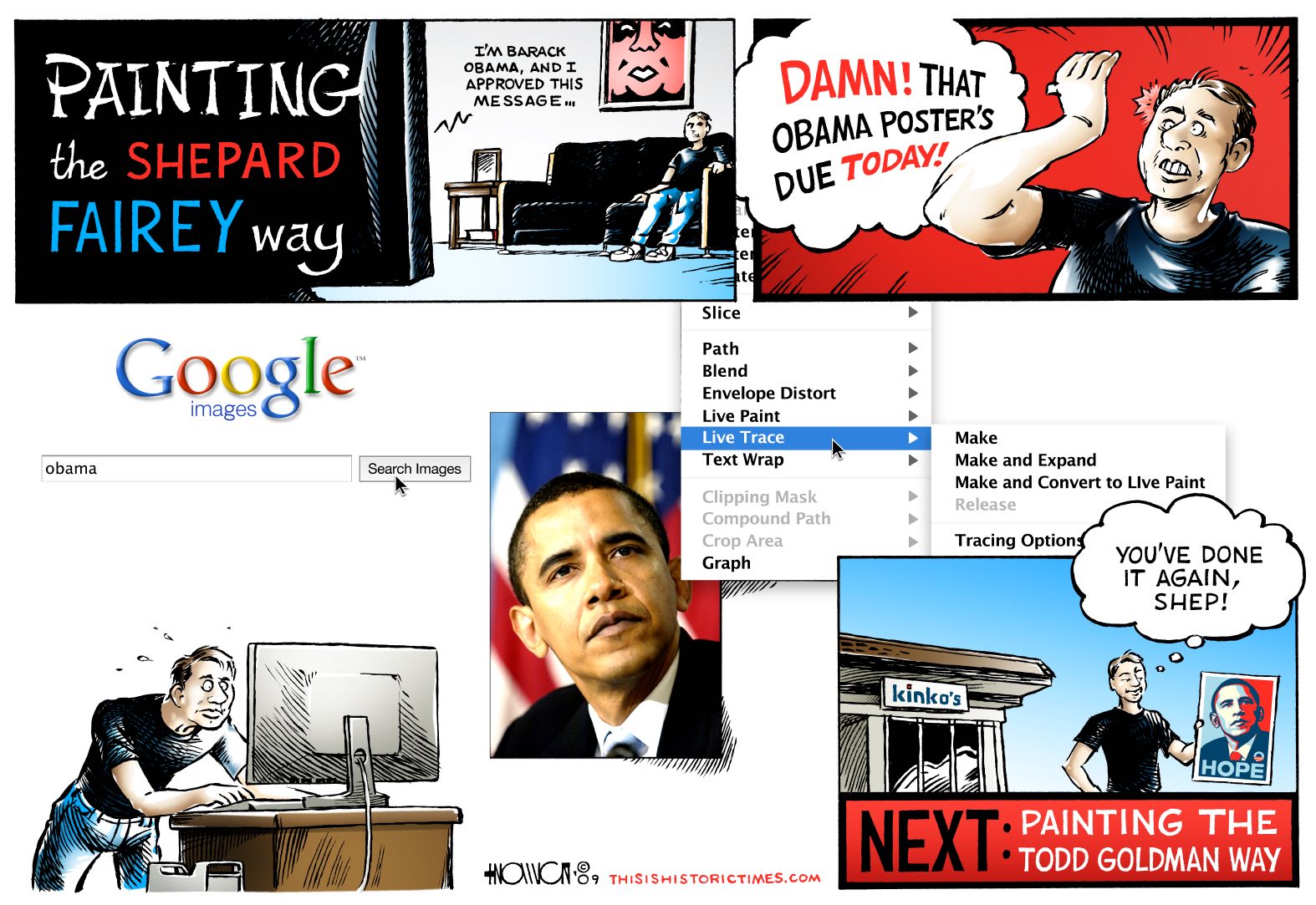 Shepard Fairey is the so-called "guerilla" artist who first became well-known for his OBEY Giant street posters. Since then, he has constructed a very successful fashion line and reputation as a modern artist… out of copying other peoples' illustrations and photography. Artist Mark Vallen has already written an extensive article citing many examples of Fairey's plagiarism, so rather than repeat that here, I'll direct you to read his article instead.

Much of Fairey's appeal relies on "revolutionary" rhetoric and a reputation for promoting outwardly-leftist ideals. For reasons related to this, Barack Obama's Presidential campaign approved him to design a poster in early-to-mid 2008 which became the iconic HOPE poster. A hand-painted reproduction of this poster now hangs in the National Portrait Gallery in Washington D.C. Fairey created the original design, which contained the word "progress" instead of "hope," as well as Fairey's logo, in less than a day by Google Image Searching for pictures of Obama and apparently tracing one. He did not contact the original photographer, Mannie Garcia, or the Associated Press for permission to use the photo in this way.

The poster was hugely popular, and around the time of Obama's inauguration, the AP issued a press release pointing out which photo Fairey had traced to create it and explaining that its use required permission. Fairey sued the Associated Press, asserting he had used a different photograph for photoreference rather than tracing the one the AP alleged, but this was an obvious lie. In an attempt to mislead the court, Fairey tampered with evidence, an act he admitted to on October 16th, 2009.

I think it's important, in considering this issue, to focus on Fairey's process instead of getting hung up on the HOPE poster itself. Despite its dubious origins, I feel it's a good design. However, I don't feel this is due to any skill or effort on Fairey's part. He has a long history of using other people's art in service to meaningless statements and vacuous politics which just happened to produce something very effective and valuable this time. It's a broken clock moment.

I'm convinced he knows very little about art, because of a statement he made regarding the Obama "Joker" posters in which he said, "The artwork is great, in that it gets a point across really quickly, (but) I don't agree with the political content of the poster."

No, Shep. No. The artwork is not great, precisely because it doesn't get a point across really quickly. The Joker has nothing to do with socialism, and is really more a representation of anarchy, at least according to Christopher Nolan's conception, so the point of the artwork is confounded by contradictory language.

That aside, "THING BAD!" doesn't make great artwork or a good point by itself, either. It doesn't matter how effectively a piece of artwork communicates a point if the point is no more sophisticated than Calvin's drawings of Miss Wormwood being shelled by tanks.

To explain the reference at the end of the cartoon, Todd Goldman is another "artist" whose popular David & Goliath brand and professional success seem to have stemmed from copying other people's drawings and ideas instead of developing his own. He was caught red-handed in 2007 when a pair of illustrations he'd painted, labeled with his obnoxious TODD signature, were found to be nearly identical to a cartoon drawn by webcartoonist Shmorky in 2001.

The ultimate conclusion of all this is that neither of these charlatans deserves a reputation as a skilled fine artist, nor do they deserve the commercial benefits such recognition brings about. "Good artists copy; great artists steal," doesn't refer to straight-up xeroxing another person's picture with a moronic slogan or one-liner attached to it.

Don't buy stuff from either of them. If you see one of their paintings in a gallery or one of Fairey's stupid posters on the street, tape this sign up next to it.
Tags:
Adobe Illustrator
,
Andre the Giant
,
Associated Press
,
Barack Obama
,
David & Goliath
,
fraud
,
Google Image Search
,
HOPE
,
HOPE poster
,
Kinko's
,
Live Trace
,
Mannie Garcia
,
Obama
,
Obey
,
Obey Giant
,
plagiarism
,
poster
,
Shepard Fairey
,
Todd Goldman