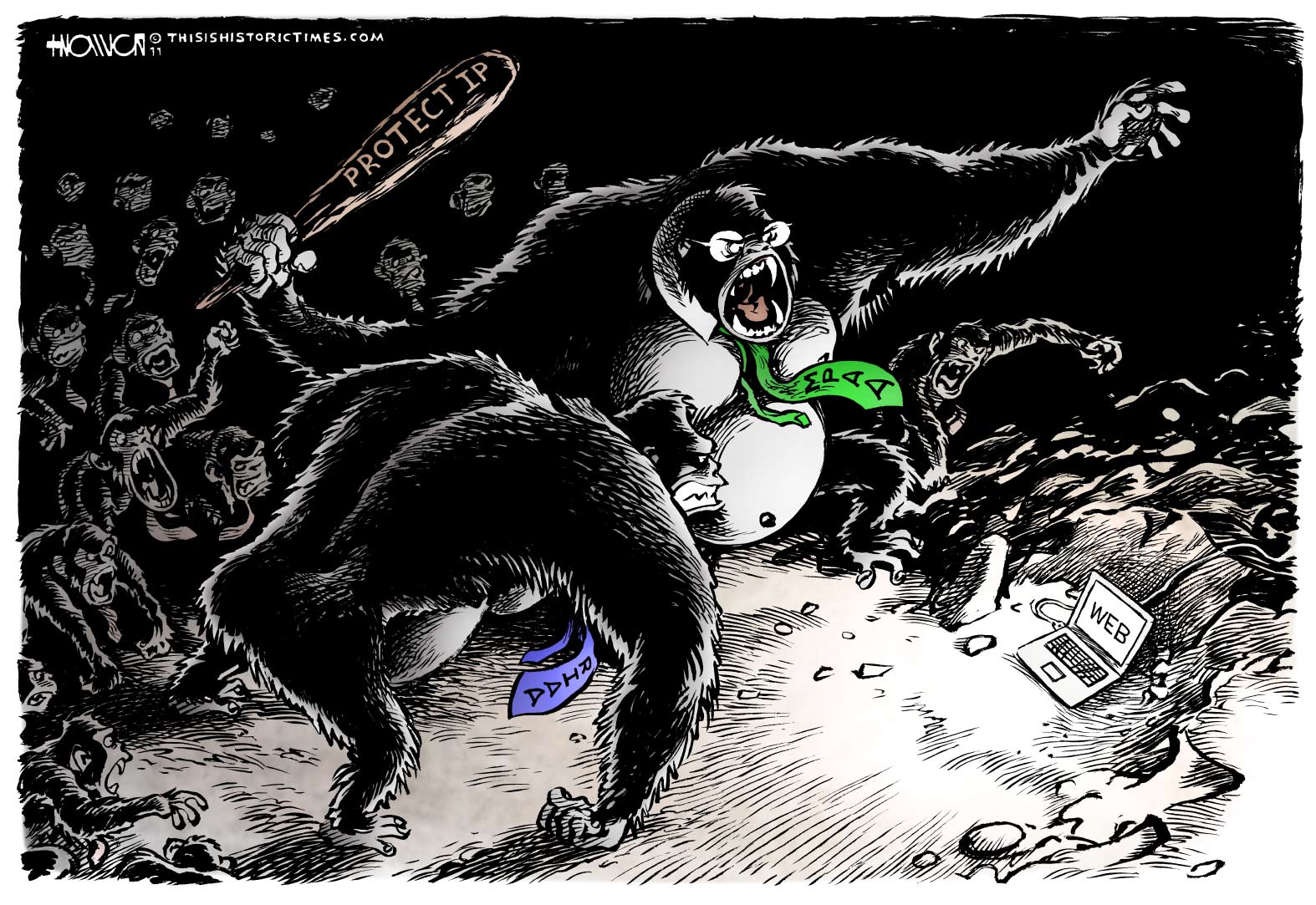 This cartoon comments on the PROTECT IP Act, which found its way through Congress last month before being put on hold by Senator Ron Wyden due to serious concerns over its broadness and its potential effects on the Domain Name System, which associates URLs with servers' IP addresses. The bill remains in limbo at this time, but still hasn't been struck down, and continues to be strongly criticized by internet security experts, people like Google CEO Eric Schmidt, and pretty much anyone else who values individual freedom of speech over the "rights" of dinosaur trade organizations like the MPAA and the RIAA to continue taking advantage of their customers and content-producers.

The RIAA, of course, is at this point better-known for its business model of suing dead people and children instead of making and distributing music. Its sister organization, the MPAA, also seems to have figured out that it doesn't really do anything anymore except put dopes in suits between consumers and content-producers. It's not surprising that they would champion (and, I imagine, had an active hand in crafting) bills like PROTECT IP as a last-ditch power-grab, to offset their obvious and increasing irrelevance.

I actually finished a different version of this cartoon early Thursday morning, but I wasn't happy with the composition, both because it was boring, and because the arrangement of elements didn't emphasize a direct-enough line of action from the apes to the subject of their ire. It looked too much like the ape with the club might have its back entirely to the laptop. So, rather than put it up on this site, I scrapped what I had already done and redrew the cartoon from scratch. I'm glad I did, because the above is a much tighter (and funnier) illustration. The apes in this one don't just look angry, but also look kind of afraid, which was perhaps the biggest improvement over the first illustration. And while the addition of the chimps doesn't really add another layer of meaning, I do enjoy their facial expressions quite a bit.
Tags:
ape
,
chimp
,
chimpanzee
,
club
,
Congress
,
Eric Schmidt
,
gorilla
,
If You're Happy and You Know it Clap Your Hands
,
internet
,
MPAA
,
online
,
piracy
,
PROTECT IP
,
RIAA
,
web
,
World Wide Web