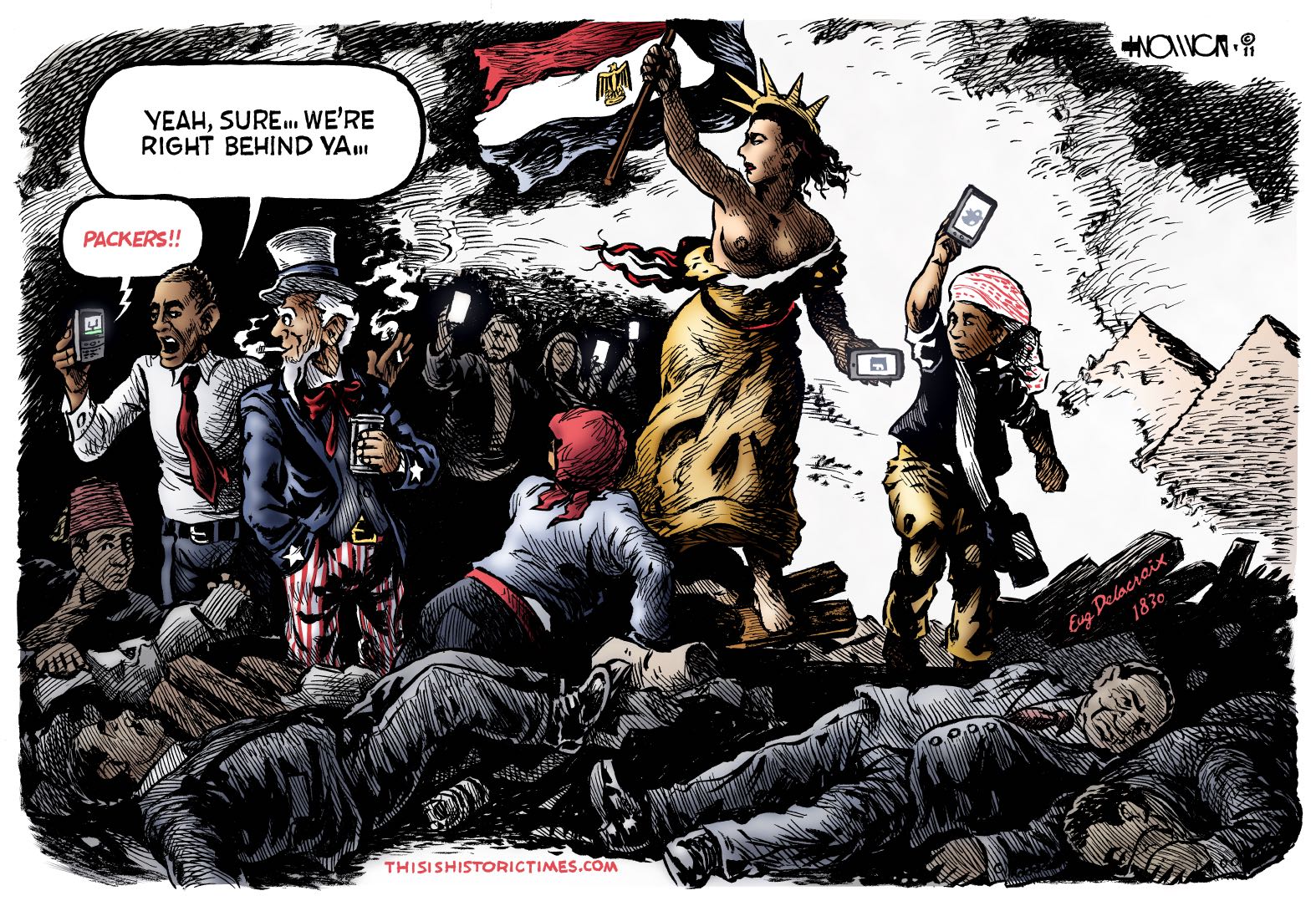 I spent several weeks trying to come up with something good on the protests against autocratic, Western-supported President Hosni Mubarak in Egypt. Most other cartoonists seemed to be falling on cliches like the pyramids and the Sphinx without making very good use of them, and I didn't want to do that, so I decided to let the topic continue rolling around in my brain rather than rushing out something as unimpressive.

After awhile, I remembered the painting Liberty Leading the People, by French Romantic artist Eugene Delacroix, and thought that it'd adapt well to the modern subject matter, since there seemed to be some parallels between the French revolutions of the 18th/19th centuries, and the protests happening throughout the Middle East today.

The revolutionaries in the original painting are carrying guns and swords, but since social networking sites seem to have been one of the main weapons utilized by people in Egypt, I replaced them in my cartoon with smartphones. As an acquaintance of mine observed, this also made it easy to tie in Obama's Blackberry.

I was a little uncertain whether I should include the nudity from the original painting, since it seemed like it might be inappropriate for the region, but I ultimately decided to leave that detail as it was, because I recognized how it symbolized freedom arising from destructive skirmishes, and I didn't want to undermine or contradict that message.

Edit:
Turns out my friend Roxanne had the same idea as I did. Take a look at her approach here.
Tags:
Ali Abdullah Saleh
,
autocracy
,
Barack Obama
,
Blackberry
,
Columbia
,
Democracy
,
dictator
,
Egypt
,
Egyptian protests
,
Eugene Delacroix
,
Facebook
,
football
,
France
,
French Revolution
,
Greenbay Packers
,
Hosni Mubarak
,
Liberty
,
Mubarak
,
Obama
,
Packers
,
President Obama
,
puppets
,
pyramids
,
revolution
,
Romanticism
,
smartphone
,
smartphones
,
Super Bowl
,
Tunisia
,
Twitter
,
Yemen
,
Zine El Abidine Ben Ali