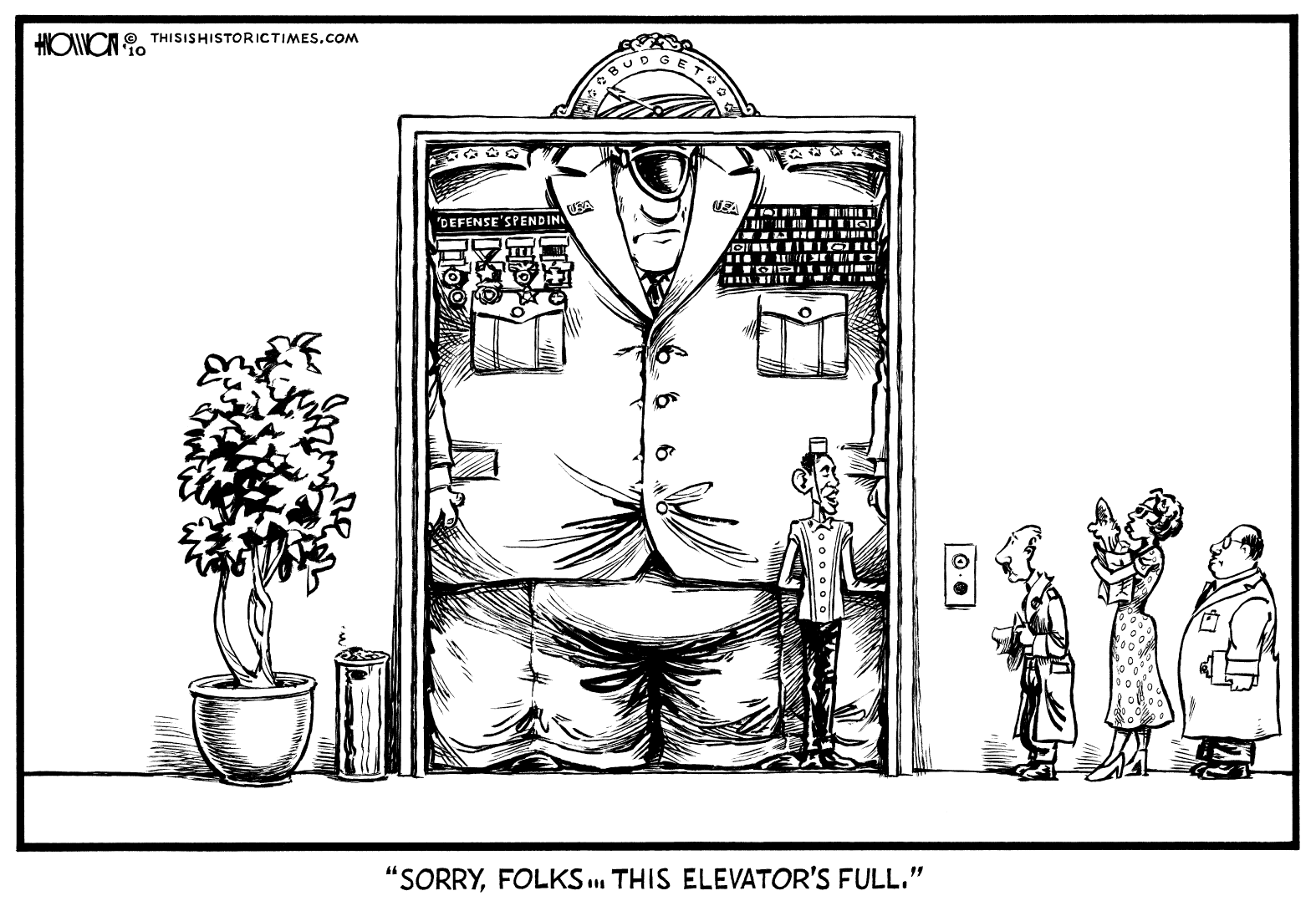 This cartoon's development process was very indirect.

Following Obama's State of the Union address last week, I had several different ideas, one of which was the previous cartoon. I wanted to comment on the spending freeze as well, and since one of the things that's supposed to cut back on is wasteful spending, AKA "pork," I thought I could do something showing that a lot of America's runaway military budget is the porkiest pork that ever porked. To that end, I sketched this.

It wasn't quite working, though, so I spent a couple days considering different approaches to the same basic joke. Some of them involved the pigs as obnoxious, gluttonous patrons in a restaurant, being served by Obama as a waiter. Some had them gathered around a pie graph of the national budget, with little tanks and arrows, as if planning to invade the slices not currently occupied by the military. I even tried to come up with something referencing George Orwell's Animal Farm.

But, something seemed to be missing from all the pig-based jokes, so then I started trying to move in a few other directions, and basically came up with a lot of great images that I either didn't agree with, or with which I had other problems. One sketch had Obama wearing a yarmulke with his logo on it while sitting down to dine on a giant ham labeled "military budget." Another one had a human military character about to eat a similar ham with a bone in it that looked like Obama's logo.

Somewhere in the middle of all these, I imagined the above cartoon. I was a little concerned about the potential racial connotations of portraying Obama as a stereotypical elevator operator, but I couldn't come up with a way around that, and I decided it wasn't worth tossing out an otherwise great image. If it helps, I was using Droopy's appearance in Who Framed Roger Rabbit as my main reference for this (and even had a sketch where Obama's neck stretches out like in the movie).